How CVPR 2019 Conference—Tech's Premier Event for Computer Vision—Broke Records on All Fronts. Cite Self-Driving Cars and Your Social Media Apps, says Finance Co-Chair Walter Scheirer
By Michael Martinez
Long Beach, California—The CVPR 2019 Conference, co-sponsored by the Computer Society, broke records on every front: attendance, industry exhibitors, and paper submissions to its prestigious technical program.
What accounts for such success at this year's conference, tech's premier event for computer vision?
Finance Co-Chair Walter Scheirer, also an assistant professor at Notre University, explains the massive changes in both technology and society that attracted more than 9,200 participants and 180 exhibitors to the conference, formally called the 2019 IEEE/CVF Conference on Computer Vision and Pattern Recognition (CVPR), which was held 16-20 June 2019 in the Long Beach Convention Center.
The CVPR event is one of tech's top artificial intelligence conferences, ranked among Google Scholar's Top 10 publications for the quality of research papers presented at the gathering.
Computer Society: Explain what computer vision does.
Walter Scheirer: It's a good question. Depending on whom you ask, you may get different answers.
Historically, the field has been split into two areas: There is the traditional computer vision, which is reconstructing scenes using a computer, involving 3D reconstruction, imaging, camera systems—what nowadays we would call computational photography. All that is one area.
But we've seen over the past couple of decades the rise of machine learning. The area of visual recognition has dominated, and that part of the community is now much, much larger than the classical piece. This is teaching a computer to understand what's in a scene, labeling objects, understanding the meaning of the video, and tracking objects in scenes.
Tell us what makes CVPR 2019 exceptional.
Scheirer: What I'm most proud of is the growth of the community. This conference used to be far smaller than it is now. We've seen explosive growth, especially in the past three years, with the number of papers submitted, attendees coming to CVPR, and the industry participation.
If you really think of the impact, there was an inflection point in 2012 where computer vision started to work for useful applications. It wasn't just an academic endeavor. All of a sudden, we started to see all these companies adopt computer vision techniques and start to roll out real products, lots of start-ups, and show tremendous activity across many different industries. That's what this community is most proud of. That has dramatically transformed CVPR.
What exactly is behind the growth?
Scheirer: That is a great question. Importantly, computers just got better. We now have computational resources—that used to be available only to supercomputing facilities — in a single GPU card, and that lets us use machine learning in a way we couldn't do ten or fifteen years ago. That is a radical transformation in terms of capabilities.
The second thing is the data that is available. The internet has also reached an inflection point where there is so much multimedia content, especially images and videos, that it's very easy for folks to download very large data sets to train these models. The scale of this data is something we had never been able to deal with in the past.
So we got the data, we got our high-performance computing right on our desktops, and now we can do some things that were just impossible back in the 90s and early 2000s.
These developments impact which industries the most?
Scheirer: Self-driving cars and social media are the two top ones. There are also more mundane things. If you think of Amazon and its fulfillment centers and the customer-facing applications, there is a lot of computer vision going into these things — to automate supply chains and distribution. They are trying to do that with computer vison and robotics. That was something very difficult to do in the past, but it's now coming to fruition. There's also the drones space, too.
Tell us your impression of the exhibition floor.
Scheirer: I'm blown away. CVPR didn't even have an expo five years ago, and now we have this huge expo. We really started it seriously in 2016, but it was very small. Then in 2017 we hired a company to manage it, and it got much, much better. Then it just grew explosively over the past two years.
For you, what is the conference's most exciting experience?
Scheirer: The technical content here is the best in the world. There are so many mind-blowing pieces of work, and that's exciting to see. The community. Talking to everybody. Learning about what's happening next. What people are thinking. What research we want to pursue. That is really the most exciting part of the conference – just connecting and really learning new ideas.
What does the future hold for CVPR conferences?
Scheirer: We'll still see growth. There are a number of industries that have not yet adopted computer vision that are going to be entering this. I'm a professor, and I see an enormous number of applicants to our graduate program who are interested in machine learning and computer vision. It's an exciting thing to be a part of if you're a student. We're going to see continued growth in the academic space as well.
There's also a lot of government funding here in the US for AI, and that's also true in a lot of countries, especially China. As long as the economics make sense, we're going to keep promoting CVPR.
This conference is overseen by volunteers such as yourself. How do you all negotiate the prospect of the conference growing even bigger?
Scheirer: We've been slowly professionalizing this conference. That's another funny thing: This used to be a DIY operation — really no professional involvement. It was purely run by volunteers. Up until very recently, this was the case. You would do just everything: volunteers would be picking the menus, making handwritten signs. But that was kind of fun because it was really a community effort. The conference still retains that character, but again we're slowly professionalizing it as much as possible – the expo, the meeting planner who handles the logistics. We don't have professors do that anymore.
As long as it's feasible to find venues that can hold us, we'll keep trying to grow it.
Read more related articles about CVPR:
---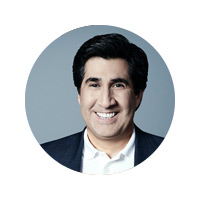 About Michael Martinez
Michael Martinez, the editor of the Computer Society's Computer.Org website and its social media, has covered technology as well as global events while on the staff at CNN, Tribune Co. (based at the Los Angeles Times), and the Washington Post. He welcomes email feedback, and you can also follow him on LinkedIn.