Industry Exhibitors Take Over Hundreds of Thousands of Square Feet at the 2019 IEEE/CVF Conference on Computer Vision and Pattern Recognition (CVPR)
By Lori Cameron
Long Beach, California—The 2019 IEEE/CVF Conference on Computer Vision and Pattern Recognition (CVPR2019) saw its largest gathering of professionals from across the world and from every aspect of the computer vision, machine learning, and artificial intelligence industries. This year's conference had a record-breaking 9,000+ in attendance and a whopping 181 exhibitors including big names like Microsoft, Amazon, Apple, Facebook, Google, IBM, Hauwei, and Tencent.
The exhibition hall amassed all the tech giants with floor-to-ceiling displays featuring cars, trucks, and high-resolution video demos running non-stop. Scattered throughout were smaller but equally ambitious companies working on their own cutting-edge autonomous vehicle technologies as well as social media apps that integrate computer vision tech.
But the not-so-hidden agenda for many of these companies was recruiting top talent for a huge number of job openings spurred by growth in the fields of computer vision and autonomous vehicles. Indeed, participants flocked to the exhibits in droves precisely because they want to work for tech giants like Apple and Google. Job recruitment was the driving force behind the exhibit hall's success.
Nearly half of all attendees came from industry, while the remaining attendees hailed from academia and elsewhere. The top three fields represented were manufacturing, services, and education. Nearly a third of all attendees came from companies with 10,000 employees or more. Sixty-three percent of attendees were between the ages of 18 and 34.
Despite the breadth and depth of participation, there was also no mistaking CVPR 2019 as just a gathering of vendors promoting their wares.
"This is not a trade show. This is a real research conference, and I think everybody who's involved in the organizing of these conferences wants to have the broadest participation possible. They want to stay away from politics 100 percent and give everybody a chance to participate," says CVPR 2019 General Chair Larry Davis, also of the University of Maryland, told CVPR Daily.
Expo Highlights from the 2019 IEEE/CVF Conference on Computer Vision and Pattern Recognition
Self-driving cars were everywhere!
 Tesla's all-electric supercar, Roadster 2, was a red-hot hit at the Expo. (Click the image for a larger version.)
Notice how the door has no handle? Tesla instead opts to use finger swipe technology whereby you slide your hand down the B pillar of the car, LED lights confirm it's you, and in you go! (Click the image for a larger version.)
Aptiv released a fleet of autonomous cars in Las Vegas last year that have since clocked over 50,000 rides to more than 2100 Vegas venues with high customer satisfaction. Here is the model they featured at CVPR2019.
The system uses a full sensor suite with six cameras offering a 360-degree field of view and has the world's largest dataset of 3D annotations.
Didi Labs, a Chinese ride-sharing startup, has created "D²-City," a large-scale driving video dataset that provides more than 10,000 dashcam videos recorded in 720p HD or 1080p FHD. (Check out the camera array atop the car.)
Around 1000 of the videos come with detection and tracking annotation in each video frame for cars, vans, buses, trucks, pedestrians, motorcycles, bicycles, open- and closed-tricycles, forklifts, and large- and small-blocks.
Microsoft wants to know who you are and what you're doing at CVPR!
Attendees were invited to grab any one of a number of colored spools of thread and map their responses to questions about how many years they've been to CVPR, where they're from, what their favorite programming language is, what degree they've earned, and what keeps them up at night!
Starting in December 2018, more than one thousand deliveries were made in Phoenix, Arizona by Nuro autonomous vehicles. Nuro is now launching a similar program in Houston, Texas using Prius test vehicles.
Because the vehicles are electric and have no driver, they make deliveries substantially less expensive. Nuro hopes to partner with grocery stores and other companies to eventually provide delivery services for free.
Facebook featured its Oculus outfit, allowing guests to use the virtual reality giant's technology to immerse themselves in a completely different environment. Watch your step!
Mercedes-Benz showed off their version of the autonomous vehicle. "We are hiring!" said Yujing Chen (pictured).
Apprehending suspects and finding lost children just got a lot easier because of Sighthound's latest facial and object recognition software. It is capable of scouring hours and hours of video, annotating, classifying, and organizing faces and objects. (The program above is identifying and classifying the make, model, and license plate of each car.)
Spencer Hay, vice president of sales for Sighthound, tested a mobile phone version of the software on me and the software guessed my age within a three-year margin of error. Hay says that's a lot better than humans who have a seven-year margin of error or higher. How about that!
DJI featured the Mavic 2, an intelligent aerial robot capable of gathering a multitude of images from its onboard cameras, processing in real time with advanced algorithms, all without sacrificing flight time or performance.
This year's conference was held at the  Long Beach Convention Center in Long Beach, California, on 16-20 June 2019.
Read more related articles about CVPR:
---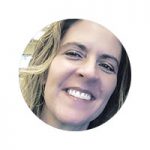 About Lori Cameron
Lori Cameron is Senior Writer for IEEE Computer Society publications and digital media platforms with over 20 years of technical writing experience. She is a part-time English professor and winner of two 2018 LA Press Club Awards. Contact her at l.cameron@computer.org. Follow her on LinkedIn.