VR2018: 25th IEEE Conference on Virtual Reality and 3D User Interfaces
By Lori Cameron
The 25th IEEE Conference on Virtual Reality and 3D User Interfaces, the largest and best-known international conference devoted to academic research about virtual reality, will be held March 18-22 at the Stadthalle Reutlingen in Reutlingen, Germany.
Last year's conference, held in the Los Angeles area, drew an unprecedented number of attendees. With nearly 600 guests, the conference featured a wealth of VR presentations, research demonstrations, panel discussions, posters, and exhibits, all exploring cutting-edge innovations and challenges in VR for both academia and industry. David Krum and Evan Suma Rosenberg, both of the University of Southern California, spoke about what sets the IEEE VR Conference apart from trade shows and other VR-related meetings.
"We have a different purpose," said Krum. "We want to talk about scientific investigation, evaluate what is going on, and pull together theories to try to understand what VR is good for, what it is doing for us, and how can it be harnessed.  The scientific approach we take is something that is unique about this conference."
Added Rosenberg: "There is almost always some level of evaluation by groups that have studied people using VR, and that is something you don't get at a trade show where the emphasis is more on marketing. In evaluations, researchers observe not only what is good about VR technology but what the limitations are. What are the things that need to be improved upon? Another important aspect is the merging of disciplines. For example, a paper was presented on the ethics of VR. Another event included a discussion about the field of VR and neuroscience. These are the things that are really special about academic VR conferences in general and the IEEE VR Conference in particular."
This year's conference will feature research on virtual humans, avatars, virtual locomotion and navigation, non-fatiguing 3D user interfaces, games, and entertainment among many others. It will gather together the world's leading researchers and industry leaders to share ideas and display the latest innovations in virtual reality technology.
The Germany conference has already attracted an extraordinary number of paper submissions from researchers and experts from both industry and academia.
"VR is such a hot topic at the moment and specifically Europe has a lot to contribute, so we were not surprised that this year we received nearly twice the number of submissions as last year," said Betty Mohler, a general co-chairs of the conference and a professor at the Technical University of Darmstadt. 
Speakers will include Skip Rizzo of USC, an expert in the use of virtual reality for clinical assessment and therapy; Katherine J. Kuchenbecker, a director at the Max Planck Institute for Intelligent Systems who leads an interdisciplinary team that invents compelling haptic interfaces for touching virtual and remote environments, studies human haptic interaction, and endows autonomous robots with an astute sense of touch; Oliver Riedel from University of Stuttgart; Helmut Hobmaier from Audi AG; and Robert Menzel from NVIDIA, a firm whose invention of the GPU in 1999 ignited the PC gaming market.
On the evenings of March 19th and 20th, participants of the conference are scheduled to visit the Max Planck Institutes for Biological Cybernetics and Intelligent Systems in Tübingen as well as the Fraunhofer Institute for Industrial Engineering IAO in Stuttgart where they will get insight on the most sophisticated state-of-the-art virtual reality facilities in Germany, according to conference organizers.
---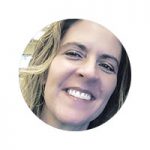 About Lori Cameron
Lori Cameron is Senior Writer for IEEE Computer Society publications and digital media platforms with over 20 years extensive technical writing experience. She is a part-time English professor and winner of two 2018 LA Press Club Awards. Contact her at l.cameron@computer.org. Follow her on LinkedIn.