Machine Learning and Data Mining
How award winner Zhi-Hua Zhou of Nanjing University merges them in academia and industry.
After he won the 2019 Edward J. McCluskey Technical Achievement Award, we caught up with Zhi-Hua Zhou for a quick interview about his new honors and professional contributions to the fields of machine learning and data mining.
Zhou, professor of computer science and artificial intelligence at Nanjing University, is currently serving as the head of the Department of Computer Science and Technology, dean of the School of Artificial Intelligence, and deputy director of the National Key Laboratory for Novel Software Technology. He is the founding director of the LAMDA Group.
Zhou's impact on academia and industry is impressive. In addition to holding several leadership positions at Nanjing University, he has developed many industry innovations. Here's what he had to share.
Want to learn more about the accomplishments, activities, and innovations of our members? Subscribe to the INSIDER newsletter.
How Real Problems in Industry Drive Academic Research
Computer Society: What was your reaction to receiving the McCluskey Technical Achievement Award?
Zhou: I feel very honored to receive this prestigious award.
Computer Society: Not only have you had a rich career in academia, but your inventions have also been applied very successfully in industry. What is the secret to merging these two domains?
Zhou: My main research interests are in machine learning and data mining, where the theoretical and practical aspects are very closely entangled. If one's research is driven by a real problem, no matter whether the problem itself is theoretical or practical, the research progress will have application value sooner or later. This is true even for some very theoretical studies, at least in the area of machine learning and data mining. Of course, the premise is that one's research is driven by a "real problem" in this area, not simply by the desire to get published.
Best Career Advice
Computer Society: What's the best career advice you can give, for any level — entry, mid-career, managerial?
Zhou: Stay focused and insist on pursuing that which interests you the most.
Looking to advance your own career and maximize your salary potential? Subscribe to our Build Your Career newsletter.
Computer Society: What are you most looking forward to at the COMPSAC conference to be held this July in Milwaukee, Wisconsin?
Zhou: This will be my first time attending this conference, so I feel it will be interesting and exciting.
Video Featuring Zhi-Hua Zhou
Check out the YouTube video "Isolation Kernel and Its Effect on SVM [support vector machine]" by Kai Ming Ting (Federation University Australia); Yue Zhu (Nanjing University); and Zhi-Hua Zhou (Nanjing University) originally presented at the 24th ACM SIGKDD Conference on Knowledge Discovery and Data Mining (2018).
---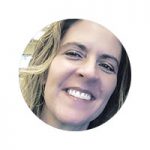 About Lori Cameron
Lori Cameron is Senior Writer for IEEE Computer Society publications and digital media platforms with over 20 years of extensive technical writing experience. She is a part-time English professor and winner of two 2018 LA Press Club Awards. Contact her at l.cameron@computer.org. Follow her on LinkedIn.