meSchup: A Platform for Programming Interconnected Smart Things
By Lori Cameron
In a future where hundreds of smart networked devices will be embedded in our everyday environments, the question of how to program the world around us arises.
In the article "meSchup: A Platform for Programming Interconnected Smart Things," (login required for full text) which appears in the November 2017 issue of Computer magazine, researchers describe an abstraction layer and web-based integrated development environment, which can interweave available smart things' capabilities into a collective orchestration of smart behavior.
"Developing software for the IoT, programming the world that surrounds us, and creating innovative applications that impact our everyday life are enormous challenges. Current programming approaches, best practices, and development environments and tools are not sufficient to efficiently support an orchestrated network of smart devices. We believe it is essential to build on existing skills (such as web development) and utilize online infrastructures (such as a web-based IDE) to lower the entrance barrier," the new study says.
---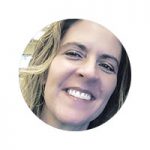 About Lori Cameron
Lori Cameron is a Senior Writer for the IEEE Computer Society and currently writes regular features for Computer magazine, Computing Edge, and the Computing Now and Magazine Roundup websites. Contact her at l.cameron@computer.org. Follow her on LinkedIn.