Video Games Are About To Get A Whole Lot More Fun
By Lori Cameron
Imagine actually feeling a boxer's punch against your face in your virtual reality headset. Imagine feeling your foot smacking against a virtual soccer ball. Or imagine feeling the force of a crosswind as you try to navigate your virtual plane through the air.
Researchers are developing a haptics system based on electrical-muscle stimulation that will allow players to feel and interact with objects and people in a virtual environment.
Because the EMS electrodes are small and lightweight, the technology lends itself well to wearables and very realistic, full-body experiences.
According to Pedro Lopes and Patrick Baudisch of the Hasso Plattner Institute in an article published in IEEE Pervasive Computing, "EMS-based systems entail a kind of human augmentation that is both invisible and well integrated with the user." (Login may be required for full text.)
In addition to enhancing the game-playing experience for users, EMS-based systems can also be used to help people learn physical tasks and recover mobility after injury.
---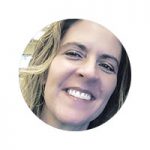 About Lori Cameron
Lori Cameron is a Senior Writer for the IEEE Computer Society and currently writes regular features for Computer magazine, Computing Edge, and the Computing Now and Magazine Roundup websites. Contact her at l.cameron@computer.org. Follow her on LinkedIn.