Designing Line-Based Shape-Changing Interfaces
By Lori Cameron
In their article "Designing Line-Based Shape-Changing Interfaces," (login may be required for full text) researchers from Stanford and the MIT Media Lab start with an overview of work on shape-changing line interfaces in the field of human-computer interaction (HCI), including their previous work on actuated-line interfaces, LineFORM and ChainFORM.
Then, several potential uses are compared and discussed in depth with regards to their future potential.
The researchers also investigate the interaction design, categorized into four groups:
Physical display
According to the authors, shape-changing interfaces can be used in fun and practical ways:
Physical icons can be displayed, such as the shape of a phone when there is an incoming call for mobile devices.
Actuated-line interfaces can be used to display interface elements, such as switches or sliders that users can manipulate.
A mobile actuated curve interface could change from a game controller, enabled by touch sensors, to a wristwatch.
The changes in the shape of the actuated curve interface can apply kinetic force or tactile textures to the user's hands or body for haptic feedback. For example, an actuated curve interface wrapped around the wrist can constrict to provide user notifications.
Tangible interaction
Shape-changing interfaces can be touched, deformed, pinched, and interacted with in a number of ways.
"By combining existing interactions with actuated-line interfaces, we can explore new interaction techniques. The actuated line interfaces can be picked up and manipulated from many angles," the authors say.
Constraints
Shape-changing interfaces can help if you break your leg.
"An actuated curve interface can constrain the kinetic motion of the body by changing its shape and stiffness while in contact with or worn by a user. The line's form factor lets it wrap around the user's body like a bandage, offering users some additional movement but restricting other movements, which can play a key role in kinetic learning, physical training, and rehabilitation," say the authors.
Customization
Shape-changing interfaces can be customized by shortening, lengthening, rearranging and configuring the curves.
Leveraging this design space, they present potential applications and demonstrate their use with the LineFORM and ChainFORM prototypes.
Envisioning a future where shape-changing lines are woven into daily life, researchers explore new uses for line-based shape-changing interfaces and encourage future researchers and designers to investigate these novel directions.
---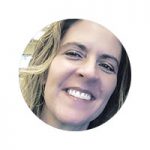 About Lori Cameron
Lori Cameron is a Senior Writer for the IEEE Computer Society and currently writes regular features for Computer magazine, Computing Edge, and the Computing Now and Magazine Roundup websites. Contact her at l.cameron@computer.org. Follow her on LinkedIn.