Smart Cities: The Future Is Now
By Neal Leavitt
With the world's population now exceeding seven billion, many municipalities in both emerging markets and developed nations are paying closer attention on how they manage their infrastructure and resources.
A number of larger cities are well on their way to becoming smart cities. Market research firm Frost & Sullivan succinctly sums up how these cities are now being defined – built on solutions and technology leading to the adoption of at least five of eight smart parameters – smart energy, smart building, smart mobility, smart healthcare, smart infrastructure, smart technology, smart governance and smart education, and smart citizen.
That's a whole lotta 'smarts' to digest. And it's a potentially huge market – valued at $1.565 billion by 2020 according to Frost & Sullivan.
Depending on whose definition of a smart city you accept, at the end of last year, for instance, IHS Technology estimated there were 21 smart cities worldwide, slated to increase to 88 by 2025.
And many of these cities have already rolled out an array of innovative technology solutions.
San Francisco unveiled SFpark, a parking solution deployed in 7,000 metered spaces and in 15 of 20 municipally owned parking lots.  Sensors are placed in the tarmac of parking spaces in order to detect a vehicle's presence.
In London, the Oyster Card provides one point of payment across a multi-modal transport system.
Barcelona and Santander, Spain have installed soil humidity sensors in municipal parks to detect when water is needed – this is helping to both reduce water usage and costs, and improve sustainability. In Barcelona, the city predicts water bills will be reduced by 25 percent this year; annual savings will be about $60 million.
The Seoul Metropolitan Government created a content management system that consolidated more than 70 previously specialized websites. It now provides a single platform for citizens to quickly glean information on all public services.
Masdar City is a planned high-tech habitat created entirely from scratch in Abu Dhabi; key goal is for it to eventually function as a clean tech cluster. At full build out by 2025, Masdar City is expected to have 40,000 residents and 50,000 commuters.
But to quote from that cheesy 1971 Carpenters song, 'we've only just begun.'
Mike Steep, SVP of global business operations at PARC, a Xerox company, is also a distinguished visiting scholar at Stanford University. Writing in Forbes about the future smart city, Steep emphasized that we don't just live in a city – we cross its layers daily.
"In the simplest view, cities have three layers: the underground level, the surface and the airspace. In a Smart City, there's a corresponding parallel universe of data-collecting sensors integrated within each stratum," said Steep.
As one example, Steep said cities are supported by an enormous subterranean physical complex – electricity, fresh water, heat, sewers, structural supports and transportation.
"Today these systems are being augmented with sensors, digital arrays, and hubs to monitor every aspect of their activity.  If the earth shakes, whether from a train or a seismic event, the data will be accurately captured," said Steep.
Steep added that the truly connected city "begins to emerge in how data is managed across all three physical layers.  Data analytics becomes the glue, that when managed well, dramatically improves your experience of life."
And when implemented wisely, said Steep, smart cities will put each of us "at the center of far-reaching civic and commercial networks…points of connection will be everywhere – smartphones, clothing, cars, benches, buildings, parking meters, speed bumps, shop windows, and more."
---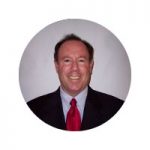 About Neal Leavitt
Neal Leavitt runs San Diego County-based Leavitt Communications, which he established back in 1991. He received his Bachelor of Arts degree in communications from UC-Berkeley and a Master of Arts degree in journalism & public affairs from American University in Washington, DC. Neal has also lived abroad and has traveled extensively to more than 80 countries worldwide.