Award Winner Radu Marculescu of Carnegie Mellon
His career, who Inspires him the most, and what is about to turn artificial intelligence on its head
Carnegie Mellon's Radu Marculescu focuses his research on the modeling and optimization of embedded systems, cyber-physical systems, social networks, and biological systems. He has been involved in organizing several international symposia, conferences, workshops, as well as been guest editor of special issues of archival journals and magazines. Most recently, he was the general co-chair of the 10th edition of Cyber-Physical Systems Week (CPSWEEK).
Marculescu, also a Fellow of IEEE, was recently selected to receive the Computer Society's 2019 Edward J. McCluskey Technical Achievement Award for his "seminal contributions to the science of network on chip design, analysis, and optimization." We caught up with Marculescu to find out more about his career, who inspires him the most, and what is about to turn artificial intelligence on its head.
Here's what he had to say. (Read about Marculescu's System Level Design Group at Carnegie Mellon University.)
Want to learn more about the accomplishments of our members and award winners? Subscribe to the INSIDER newsletter.
Computer Society: You must be proud to have recently been chosen to receive the McCluskey Technical Achievement Award. What is your most prized accomplishment?
Marculescu: I'm very proud to be the recipient of this award. It's not only the distinguished list of previous awardees that I have long admired and respected, but also the very first recipient, E. J. McCluskey, who is one of my professional heroes that makes it special. It's precisely the Quine–McCluskey algorithm, a method used for Boolean functions minimization, that I fondly remember from my very first years in college when I got introduced to digital design. I always appreciated the Quine-McCluskey approach for its elegance and impact. Receiving now the McCluskey award is like a dream come true for me. None of this would have been possible without the tremendous help of my family, collaborators, and mentors, as well as my students whom I had the privilege of interacting with during my career at Carnegie Mellon and elsewhere—this is my most prized achievement.
Computer Society: What do you see as the next big advance in cyber-physical systems?
Marculescu: Cyber-physical systems (CPS) have already had a big societal impact on many applications as diverse as healthcare, transportation, social media, and smart agriculture. These fields already benefit from the wide deployment of CPS. But I believe this is only the tip of the iceberg; the next big thing will happen when on-device AI becomes a reality. Currently, most of the artificial intelligence and machine learning algorithms rely on powerful machines or the cloud. The biggest CPS impact will come when mobile and wearable devices will run AI applications—this will completely change the way we interact among ourselves and with the environment.
Computer Society: What's the best career advice you can give, for any level — entry, mid-career, managerial?
Marculescu: Just be curious about the world around us, dream big, and forget about the details such as money, deadlines, and so forth. Collaborate with smart people with whom you resonate and results will show up.
Looking for advice to realize your potential? Subscribe to our Build Your Career newsletter.
Computer Society: What do you consider to be your highest contributions to the design of embedded multicore systems?
Marculescu: Bringing a few big ideas like low-power and network-based design into embedded multicore design. For computing systems, the emphasis has been traditionally on processor-based design, software development, and programming aspects. And there's nothing at all wrong with these ideas—they're all very relevant. However, for large-scale multicore systems, energy and communication aspects turn out to be the dominant issues. A network-centric perspective is the key to understanding and designing such complex systems. Interestingly enough, I also believe that as we move towards achieving true on-device AI, both energy- and network-related aspects will continue to play a fundamental part.
Featured Video of Radu Marculescu
Modeling infections and multidrug resistance as a way to understand — and fight — bacterial infections is just one application of networks. Radu Marculescu talks about his work in this area, as well as using network applications in studying silicon systems and social systems.
---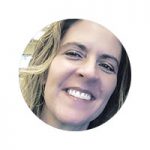 About Lori Cameron
Lori Cameron is Senior Writer for IEEE Computer Society publications and digital media platforms with over 20 years extensive technical writing experience. She is a part-time English professor and winner of two 2018 LA Press Club Awards. Contact her at l.cameron@computer.org. Follow her on LinkedIn.