Award-Winning Rajesh K. Gupta Talks about the Future of Cyber-Physical Systems, Historical Biographies, and the Passing of Time
By Lori Cameron
Rajesh Gupta's accomplishments in the field of data science are impressive.
He is a professor of computer science and engineering at the University of California, San Diego where he currently serves as founding director of the Halıcıoğlu Data Science Institute. His research is in embedded and cyber-physical systems with a focus on sensor data organization and its use in optimization and analytics. He has led several large scale projects including the National Science Foundation (NSF) Expeditions on Variability and Defense Advanced Research Projects Agency (DARPA) projects under Data Intensive Systems (DIS) and Circuit Realization at Faster Timescales (CRAFT) programs.
He currently leads NSF project MetroInsight and is a co-PI on DARPA/SRC Center on Computing on Network Infrastructure (CONIX) with the goal of building a new generation of distributed cyber-physical systems that use city-scale sensing data for improved services and autonomy. His past contributions include SystemC modeling and SPARK parallelizing high-level synthesis, both of which have been incorporated into industrial practice.
Gupta was recently selected to receive the IEEE Computer Society 2019 W. Wallace McDowell Award "for seminal contributions in design and implementation of microelectronic systems-on-chip and cyber-physical systems."
We caught up with Gupta to find out more about the future of cyber-physical systems, what he reads, and what invention inspires him the most.
Here's what he had to say.
How Professor Rajesh Gupta's Research Impacts Cyber-Physical Systems
Computer Society: How did your colleagues respond upon learning you had been awarded the IEEE Computer Society 2019 W. Wallace McDowell Award?
Gupta: With a sense of pride. Many individuals outside of my department appreciated knowing the nature of my research and its impact.
Want to stay on top of future conferences to help your business needs? Sign up for our conference alerts.
Computer Society: How is current research changing the future of embedded and cyber-physical systems?
Gupta: We are in the early stages of seeing the translational benefits of cyber-physical systems in our daily lives. For instance, embedded dynamic power management devices and methods are now commonplace from cellphones to electric vehicles.
The future is rich with possibilities responding to our need for security, privacy, and resilience. The information plane will be causally connected to our lives, individually and as a society. From today's conveniences in communications, we will transition to a future of responsive environments in which we learn, live, perform, and stay healthy and happy.
How to Rejuvenate in a Busy Academic Career
Computer Society: What's the best career advice you can give, for any level—entry, mid-career, managerial?
Gupta: To me, a career is less about fulfilling any needs or learning and living, and more about discovering your strengths and applying them maximally. The sooner you discover your strengths, the more satisfying your career will be.
Job-hunting? Subscribe to our Build Your Career newsletter.
Computer Society: How do you rejuvenate yourself mentally and physically?
Gupta: Running and reading—not at the same time of course. One clears my head and the other connects me to the world around me. Most of my reading is historical non-fiction.
Computer Society: What invention has inspired you the most?
Gupta: Timekeeping. Our sense of time and all that we have done to measure and mark it is perhaps the most intriguing invention to me.
---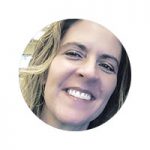 About Lori Cameron
Lori Cameron is Senior Writer for IEEE Computer Society publications and digital media platforms with over 20 years extensive technical writing experience. She is a part-time English professor and winner of two 2018 LA Press Club Awards. Contact her at l.cameron@computer.org. Follow her on LinkedIn.