As Virtual Reality Global Market Approaches $160 Billion, ISMAR 2019 Preps Industry Leaders Who Want to Drive Innovation and Make History
By Lori Cameron
Industry leaders from a multitude of sectors are increasingly leveraging virtual, augmented, and mixed reality innovations that are changing the way people share content, learn, communicate, and do business.
A wealth of information on these innovations and other advances awaits industry professionals worldwide at the International Symposium on Mixed and Augmented Reality (ISMAR 2019) to be held at Friendship Hotel in Beijing, October 14-18, 2019. IEEE ISMAR is the leading international academic conference in the fields of augmented and mixed reality. The symposium is organized and supported by the IEEE Computer Society and IEEE Visualization and Graphics Technical Committee.
The economic impact of VR/AR technology is going to be huge in a variety of sectors: retail, architectural design, medicine, engineering, tourism, real estate, education, and public safety.
Like what you're reading? Learn more if you are in industry. And register today for ISMAR.
Enterprise virtual reality hardware/software revenue is expected to reach $5.5 billion by 2023, while overall consumer spending on augmented and virtual reality will reach a breathtaking $160 billion worldwide, experts say.
Games have always been the strongest revenue driver, but major companies like Walmart, IKEA, the New York Times, and UPS are beginning to leverage virtual/augmented reality tech for their purposes too—driving the economic surge. Google, Facebook, and Microsoft are pouring billions into the "next big thing" in virtual and augmented reality.
Five VR/AR takeaways from ISMAR 2018 keynote speaker Henry Fuchs
As evidenced in last year's conference, industry leaders will be able to glean deep insights at ISMAR 2019 from leading experts like computer graphics pioneer Henry Fuchs, the 2018 ISMAR keynote speaker, who made several noteworthy predictions about the future of VR/AR and offered sound advice to industry practitioners.
Here are the highlights of his presentation:
Recent investment in VR by tech giants has been unprecedented, signaling a significant shift in industry focus.
"It started on March 25, 2014. All the news was that Facebook spent two billion dollars on a startup called Oculus that didn't even have a product yet," said Fuchs.  "They just showed some prototypes. Google and others invested in Magic Leap. Magic Leap didn't even have a demo yet but was valued at about two billion dollars. Microsoft spent nine years and over a billion dollars on the 'next thing in AR' which happened to be Hololens."
Stay informed of all your favorite conferences. Sign up for our conference alerts.
Virtual reality will not fade in 2020 as it did in the early 2000s.
"It's not likely because too much money has been invested," Fuchs said. "Billions now instead of only millions like in the 1990s. The benefit is that technology can now be developed specifically for VR. It's not dependent on tech developed for other applications."
The development of augmented reality will need time and money—both of which are now available through big players.
"Augmented reality will end up in one of two places, either Facebook or in a big Chinese company. It needs both long-term commitment and a lot of funds. Very few companies have both," Fuchs added.
Industry leaders should find out where augmented reality will work best, develop that technology, and—of course, work on the eyewear.
"If you are interested, do one of two things: work on AR use cases, to make it more convincing, or work on AR eyeglasses," Fuchs said.
And one last tip: 
"Whatever you do, keep a diary. When people ask you in ten or twenty years, 'What was it like in 2018 when VR really took off?' You can tell them. We are living in historic times."
Fuchs is the Federico Gil Distinguished Professor of Computer Science and adjunct professor of biomedical engineering at the University of North Carolina, Chapel Hill. He has been active in computer graphics since the 1970s—rendering algorithms (BSP Trees), graphics hardware (Pixel-Planes), virtual and mixed environments (Office of the Future), tele-immersion systems, virtual reality, and medical applications. 
Interested in learning more about our conferences? Check out our more than 200 annual events.
Video highlights about AR/VR from ISMAR 2018
Henry Fuchs' keynote speech "The XR Future – The coming utopia or a gamer's plaything?" begins with a short, personal history of the first 50 years of AR and VR; surveys selected research at UNC (egocentric 3D reconstruction of user and surroundings, and AR display systems for low latency, high dynamic range, wide field of view and depth accommodation); and concludes with a discussion of remaining problems in XR that need to be solved urgently if the field is to avoid the trough of disillusion and instead to grow into widespread use in everyone's daily life.
Keynote speaker Hrvoje Benko, research science manager at Facebook Reality Labs, discusses the vision of always-on AR (and VR) interfaces that can be used in a continuous fashion for an entire day and which depends on solving many difficult problems including display technology, comfort, computing power, batteries, localization, tracking, and spatial understanding. He believes that solving all those will not bring us to a truly useful experience unless we also enable effective AR interactions.
ISMAR 2018 featured roughly 25 tech demos, several of which are featured in this "demo teaser" video. Check it out!
---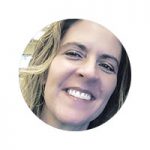 About Lori Cameron
Lori Cameron is Senior Writer for IEEE Computer Society publications and digital media platforms with over 20 years extensive technical writing experience. She is a part-time English professor and winner of two 2018 LA Press Club Awards. Contact her at l.cameron@computer.org. Follow her on LinkedIn