Industry Advisory Board
The IEEE Computer Society Industry Advisory Board (IAB) is composed of high-profile and committed visionary leaders from both industry and academia.
About IAB
The Industry Advisory Board works to build key relationships with industry and academia to facilitate cutting-edge information and knowledge resource benefits for the Society's membership and users of technology and technology information world-wide.
The IAB's mission is to help the Computer Society critically examine the organization's business plans and practices and to offer advice and assistance to ensure that the IEEE Computer Society is a relevant professional association for the entire computing profession, including engineers, researchers, practitioners, and academics.
Governed by its charter and mission, the IAB works in an advisory capacity separate from, but in collaboration with, the IEEE Computer Society's governance, to guide the development of Society products and services.
Chair
The Industry Advisory Board (IAB) chair is selected by a majority vote of the Industry Advisory Board members to serve for a two-year term. The chair works with the IEEE Computer Society executive director and governance leadership to reach agreements on issues that are relevant and in support of the computer society's role as a leading provider of computing products and services and technology information to the society's membership and the global community.
Current IAB Chair
Rufo De Francisco is the Director of Software Engineering and Development at the Global Cyber Alliance (GCA). He is responsible for the software engineering process and leads a software development team that implements and delivers solutions to reduce cyber risk and improve our connected world. Prior to assuming his current role, De Francisco held senior software engineering and quality positions at Intel, where he worked for over 25 years. De Francisco received a master's degree in Computer Science from the University of Arizona, where he studied under a Fulbright scholarship. He earned a master's degree in Electronic Physics and a bachelor's degree in Physics, both from the University of Salamanca, Spain.
Since the inception of the Industry Advisory Board in 2008, four members have served in the capacity of chair.
Past Chair, Dr. Stephen D. Huffman, Vice President and Chief Technology Officer, MITRE Corporation was elected inaugural chair at the first Industry Advisory Board meeting held in May 2008.  Past chair, Dr. Huffman served from May 2008 to February 2011.
Past Chair, Dr. Harold Javid, Director, North America & Global Programs External Research, Microsoft Research,  became chair in March 2011 and served to December 2012.  Dr. Javid ran for a seat on the society's Board of Governors and was elected to begin a three-year term 1 January 2013.
The Industry Advisory Board past chair is Mr. Shmuel Shottan, Senior Vice President of Product Operations & Technology, Hitachi Data Systems.  Mr. Shottan joined the IAB in June 2010 and assumed the role of chair in January 2013.
Current Members
Current advisory board members:
Mr. Rich Belgard, IAB past Co-Chairman (2015 – 2017), Computer Hardware, Independent Consultant
Anita Carleton, Director, Software Solutions Division
Mr. Rufo De Francisco, IAB Chairman (2018 – 2020), Director, Software Quality, Intel Corporation
Dr. Zoran Dimitrijevic, Software Engineer, SAP
Ms. Sandra Forney, Director of the Engineering Center of Excellence (eCOE), Northrop Grumman's Mission Systems
Dr. Jun (Luke) Huan, Director, ShenShang Tech
Dr. Stephen D. Huffman, IAB past Chairman (2008 – 2011), Vice President & Chief Technology Officer, MITRE Corporation
Mr. (Hsien-Hsin) Sean Lee, Deputy Director, Design and Technology Platform, Taiwan Semiconductor Manufacturing Company
Dr. Ike Nassi, CEO & Founder, TidalScale
Gretchen Peacock, Senior Manager, Collaboration with Engineering and Program Operations, Lockheed Martin
Dr. Jim Pinkelman, Director of Microsoft Research Connections
Mr. Shmuel Shottan, IAB past Chairman (2013 to 2015), Senior Vice President & Chief Technology Officer, Hitachi Data Systems
Dr. Alan Skelley, IAB past Co-Chairman (2015 – 2017 ), Software Engineer, Google, Inc.
Dr. Linda Rosenberg Wilbanks, Director, IT Risk Management Group, CISO, FSA, U.S. Department of Education
Ex officio IAB members are the IEEE Computer Society governance leadership:
Melissa Russell, Executive Director, IEEE Computer Society
Forrest Shull, President, IEEE Computer Society
Founding Members
The IEEE Computer Society is a universally recognized facilitator of technical expertise, products, and services to the computing technology and computing engineering profession. As a global resource provider it is imperative that the society stay on the cutting edge of industry technology standards, innovation, and academic knowledge excellence. Visionary leaders with diverse backgrounds from both industry and academia work together to ensure that the society accomplishes it's global mission to provide the best products and information and technology services to a world increasingly reliant on computing technology and information systems.
David R. Bernstein – Managing Director of Cloud Strategy Partners. Most recently, Mr. Bernstein was VP/GM in Cisco's Office of the CTO. His team was responsible for Cisco's University, Research, and Industry activities in Cloud Computing. He headed development for Cisco's Cloud Security, Interoperability and Standards initiatives. His experience includes executive positions in AT&T, Siebel Systems, Pluris, InterTrust, and Santa Cruz Operation. Extensive consulting experience along with recent leadership and expertise in Cloud Computing led to the formation of Cloud Strategy Partners, LLC.  Mr. Bernstein holds nearly a dozen patents in software and communications, publishes research in IEEE, ACM, and IARIA conferences, and was a key contributor to many industry standards such as OpenSOA.org, OASIS SCA, WS-I, JCP/J2EE, and IEEE POSIX. He holds degrees in Physics and Mathematics from University of California where he was awarded the UC Regents Scholar designation for his work for the Office of Naval Research.
Nick Bowen, Ph.D. – Vice President of Software Appliances at IBM Corporation. Prior senior level positions at IBM include Vice President of Technical Strategy and Global Operations for IBM Research and Vice President of Software Development in the IBM Systems & Technology Group where Dr. Bowen was responsible for all server operating systems, including zOS, AIX, i5OS, zVM, VSE, and Linux.  In addition, he was responsible for all firmware for the System Z, P, I, and X products. Dr. Bowen received a BS in Computer Science from the University of Vermont, an MS in Computer Engineering from Syracuse University, and a Ph.D. in Electrical and Computer Engineering from the University of Massachusetts, Amherst. He is a senior member of the IEEE and a member of the ACM, served on the computer science advisory boards of Florida International University and North Carolina State University and helped found the computer science advisory board at the University of Puerto Rico at Mayaguez.
Atsuhiro Goto, Ph.D. – Professor, Graduate School of Information Security, Institute of Information Security (IISEC), Japan. Dr. Goto is a leader of the nationwide graduate schools education program, enPiT-Security, which develops promising IT experts with the newest information security professional skills. He was with National Telegraph and Telephone (NTT) R&D for over 25 years where he made significant contributions to cutting-edge business developments in the Japanese industry. His experience includes leadership of nationwide projects with major technology vendors, highly reliable cloud computing platforms, and next-generation IP backbone technologies. Dr. Goto has contributed to global standardization of cloud computing as Vice Chair of the Global Inter-Cloud Technology Forum (GICTF). His research interests include secure cloud computing, ID management, and big data security and privacy. He received a Ph.D. from University of Tokyo in 1984, is a member of the IEEE Computer Society, ACM; IEICE; and IPSJ, an IPSJ Fellow and served on the IPSJ Board from 2008 to 2009.
Steven J. Hillenius, Ph.D. – Vice President at Semiconductor Research Corporation. Prior to joining SRC, Dr. Hillenius worked for Bell Laboratories/Agere Systems from 1981 until 2006. He has served or is serving on the boards of directors of the IEEE, MARCO, and the SRC Education Alliance. Dr. Hillenius holds eight patents in the area of semiconductor device structures. He has published more than 70 articles and book chapters on semiconductor devices and processing, is a Fellow of the IEEE and a member of Sigma Xi, AAAS, and APS. Dr. Hillenius received his Ph.D. in Physics from the University of Virginia.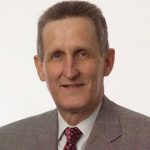 Stephen D. Huffman, Ph.D., IAB Chairman (2008 to March 2011) – Vice President and Chief Technology Officer of The MITRE Corporation. As CTO, Dr. Huffman is responsible for the direction of MITRE's research and development program, which explores emerging and enabling technologies and its application to critical national problems.   He also served as Vice President of MITRE's Washington Command, Control, and Communications Center, focused on ensuring integration and solving complex technical and operational challenges across the DoD. Prior to MITRE, Dr. Huffman was Director of Research and Development at M/A-COM Linkabit in Vienna, Va., where he developed anti-jam and low-probability-of-intercept communications systems, error-correction coders, speech store-and-forward systems, satellite communications, and signals intelligence systems. He received his BS, MS, and Ph.D. degrees in Electrical Engineering from Duke University, and is a graduate of the General Management Program at Harvard Business School. He is a member of the IEEE and has published numerous papers.
Gargi Keeni, Ph.D. – Vice President at Tata Consultancy Services.  Dr. Keeni has over 25 years of multi-cultural and multi-location experience in software development and services delivery. Dr. Keeni co-chairs the advisory panel of the NASSCOM Quality Forum and is involved in standardization initiatives in the areas of Software and systems engineering, IT security techniques, IT service management and IT governance. She is a member of the ISO joint technical committee's special working group on planning, management and directives, a senior member of the IEEE and serves on the 2012-2014 Board of Governors of IEEE Computer Society. Dr. Keeni is an SEI-authorized instructor, lead appraiser for CMMi and a certified examiner for JRD-QV. She served on the advisory board of IEEE Software, the AUEB MBA International Program Business Advisory Council and former lead appraiser for People CMM. Dr. Keeni holds a Ph.D. in Physics from Tohoku University. Her research interests are information security, process improvements, quality management systems, and business excellence.
Ike Nassi, Ph.D. – CEO/Founder, TidalScale — a resource virtualization software company, and founding trustee at the Computer History Museum.  He is also an Adjunct Professor of Computer Science at UC Santa Cruz.  Previously, Dr. Nassi was an Executive Vice President and Chief Scientist at SAP. Before joining SAP, he helped start three companies: Encore Computer Corporation, a pioneer in symmetric multiprocessors; InfoGear Technology, which developed Internet appliances and services; and Firetide, a wireless mesh networking company. Dr. Nassi also held executive positions at Cisco Systems, Apple Computer, Visual Technology, and Digital Equipment Corporation.  He has been a visiting scholar at Stanford University and University of California, Berkeley, and a research scientist at MIT. He has served on the board of the Anita Borg Institute for Women and Technology and is currently affiliated with other non-profit organizations.  He is an avid San Jose Sharks fan.
Bill N. Schilit, Ph.D. – Google Research, Google, Inc. Before joining Google, Dr. Schilit was principal scientist with Intel's Digital Home product group and codirector of Intel Research Seattle. He managed personal computing research at Fuji-Xerox (FXPAL), worked on networked systems at AT&T's Bell Labs, and was part of the team that invented ubiquitous computing at PARC from 1992 to 1995. Dr. Schilit's interest is ubiquitous computing, with a research focus in the development of smart personal and mobile technologies supporting knowledge work. He received his Ph.D. in Computer Science from Columbia University, is a member of the IEEE Computer Society and the ACM and served as Associate Editor-in-Chief of Computer magazine.
Neil G. Siegel, Ph.D. – Vice President and Chief Technology Officer at Northrop Grumman.  Previous assignments include VP and Chief Engineer, and VP and Division General Manager.  Dr. Siegel has made important contributions to many military, intelligence and commercial systems, including the U.S. Army's first unmanned aerial vehicle, the forward-area air defense system, and the Blue-Force tracking system.  He holds more than 20 patents in areas that include communications protocols, networking, and computing systems.  Programs for which Dr. Siegel was responsible have won several prestigious awards, including recognition from the Institute for Defense and Government Advancement, The Journal of Defense Software Engineering, Federal Computer Week, and the Battlespace Information.  Dr. Siegel was elected to the US National Academy of Engineering in 2005, is a Fellow of the IEEE, and was the recipient of the IEEE's Simon Ramo medal for Systems Science and Systems Engineering in 2011. He is also on the engineering faculty of both UCLA and USC.
Brian Stevens –  Executive Vice President and Chief Technology Officer at Red Hat. Mr. Stevens joined Red Hat's senior management team in 2001 and has been critical to leading the company's entrance into the enterprise. As EVP and CTO, he is responsible for providing vision and leadership for Red Hat's technology strategy globally, encompassing Linux, virtualization, middleware, storage, big data, and cloud computing.  Mr. Stevens began his career at Digital Equipment Corporation where he was a developer on the first commercial release of the X Window System. During his 14 years at Digital, he became a senior member of technical staff and was responsible for the architecture and development of the UNIX and clustering product lines.  Mr. Stevens earned a MS in Computer Systems from Rensselaer Polytechnic Institute and a BS in Computer Science from the University of New Hampshire. He currently serves on the boards of DataGravity and Pentaho.
Jeffrey J. Wilcox – Vice President for Engineering at Lockheed Martin Corporation.  In this position, Mr. Wilcox is responsible for developing and executing strategy for the Lockheed Martin Engineering Enterprise and its 58,000 engineers and technologists.  Prior to this position, he was the Corporation's Vice President for Systems and Software Engineering.  Before joining Lockheed Martin, Mr. Wilcox served as a Senior Vice President at Science Applications International Corporation where he held a variety of leadership positions over 17 years.  He has a master's degree in Electrical Engineering from Drexel University, Philadelphia, Pa., and is a graduate of Case Western Reserve University, Cleveland, Ohio, with a degree in Biomedical Engineering.  Mr. Wilcox holds an honorary doctorate of Engineering from Stevens Institute of Technology, Hoboken, New Jersey.
Inside the Computer Society