There's no doubt the app industry has been developing at a very fast pace since last year. 2019 has brought new solutions and more "sophisticated" ones are about to emerge. As a marketer or an app developer, you should be aware of the upcoming trends to adjust your professional strategy to this new, more demanding customer group. We have gathered some of the key trends of 2019 for you to follow.
Source: Pixabay
Programmatic Will Take the Lead
Fernando Saiz, CMO of Tappx states that "Programmatic advertising will increase its market share versus the non-programmatic ad solutions". It's starting to be more and more obvious for both developers and marketers that programmatic can drive better transparency and such practice will become a standard in the near future.
Source: Pixabay
Programmatic is not a new trend at all. In 2019, however, more marketers have been making the transition to programmatic as it is seen as an effective way to fight fraud. Last year there was a lot of nuisance caused by fraud and ads with no transparency, which led to this increased focus on the importance of programmatic in the app world.
New Targeting Strategies Will Emerge
Marketers need to find new ways of targeting customers through more sophisticated campaigns. Strategies will focus on segmentation, which will allow them to reach out to the potentially highest audience. But segmentation is only one-third of the whole. The remaining two-thirds are targeting and positioning, in short STP. Again, it's not a new trend, and it replaced the traditional marketing model of 4 P's a while ago, but its use will be more important this year.
STP has a lot of potential. Everyone knows that an app has to be placed properly for the right audience and then priced accordingly. Thanks to categorizing users by certain factors such as location, age, gender, etc. marketers are able to target much better than before.
Influencers Will Enter the Marketing Stage
The number of influencers active on social media is enormous, but what's going to change in 2019 is the quality of the content they advertise. Marketers will need to focus on establishing more authentic and long-term relationships with influencers, especially those whose impact can be strategic to the results of an ad campaign. Quantity will be replaced by quality, which directly translates into better customer engagement.
Source: Pixabay
Almost 80% of Americans use social media on a weekly basis. Platforms such as Facebook or Instagram has allowed experts to market apps better. Instead of hiring actors, models, celebrities, marketers are starting to appreciate the power of influencers. With such a great audience in the US itself, influencers will continue proving to bring much better results and they are also cost-efficient.
Marketers Will Utilize AI and Machine Learning
Personalized ads have proven to be highly beneficial for marketing strategy results. If an app can learn about its users, marketers should further use this knowledge in order to target the audience that engages best. Machine Learning can gather all the information and then display personalized recommendations to your users. AI, on the other hand, is able to secure the system during an app development stage and find loopholes.
Outsourcing Will Become a "Thing"
As the number of apps in both Google Play and App Store is constantly growing, now exceeding 10 million in total, marketers have come across certain obstacles. Strategies are becoming more complex, therefore, companies have started to look for experts and specialist outside. PreciseIT claims that outsourcing the management of various channels such as IT or analytics can turn out to be more beneficial in the long run.
Chatbots Will Automate Communication with Customers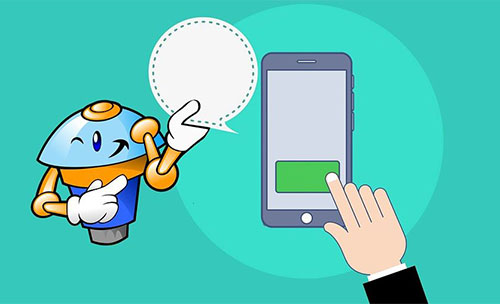 Source: Pixabay
Improved, faster and available 24/7 communication with customers is crucial in 2019. Chatbots can help you achieve just that. Users expect an instant reply at any time of the day, therefore an automated system of messaging is a great way to meet their expectations and convert them into loyal customers. Chatbots act as virtual assistants, but in order for them to be efficient, you need to incorporate advanced AI techniques so that the replies are highly personalized and relevant.
Blockchain and Security Will Become More Important
Every marketer knows that data is extremely relevant in any strategy. It allows them to target audience better and adjust campaigns to bring even more engagement. But data is also crucial when it comes to security. Today, with GDPR and a growing number of customers being extremely aware of their personal data, new solutions have to emerge to overcome this obstacle.
Blockchain will become more common this year in the app industry. It serves as an alternative. It provides marketers with information that is encrypted, and private, but at the same time useful. Security is of a great matter as cybercriminals have been extremely harmful to private data such as users' personal information. Blockchain is eliminating this danger.
Content Will Be More Engaging
Apps are usually appreciated for their visual content, but the text is crucial as well. In order to improve tech SEO results, marketers need to focus on creating content that will not only be informative but also attractive to users. A growing number of apps have shifted towards a more casual and witty tone, which speaks to both the younger generation, and the middle-aged people.
Source: Pixabay
A good practice is adding explanatory videos as users tend to respond better to visual content. Marketers need to make sure, however, that these videos are short and informative. Again, outsourcing this part of your strategy is a good idea as professionals will be able to understand the process better than a layman.
Summary
Keeping up with the latest app marketing trends is essential if you want to remain in the business. Marketing is an inseparable part of every app creation process as it directly translates into the number of users. Old, traditional methods have been replaced by new solutions and staying current with them is every marketer's duty if they want to achieve desired results and not be left behind their competition.