Why Cybersecurity Remains a Top Priority for Businesses
IEEE Computer Society Team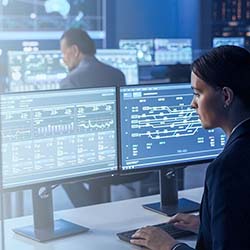 Recently, there has been a staggering rise in cybersecurity threats. This is primarily due to the coronavirus pandemic. Increased geopolitical tensions, and cloud and IoT adoption have made companies vulnerable to more frequent and damaging cyber-attacks creating a greater need for security infrastructure and talent.
Unfortunately, the cybersecurity landscape is predicted to become even more volatile. To accommodate for the future uptick in cybersecurity incidents, the size of the global cybersecurity market will likely grow from $217.9 billion (2021) to $345.4 billion (2026), per Business Wire.
Companies around the world are investing more into cybersecurity initiatives post-COVID. October is Cybersecurity Awareness Month and the ideal time for a discussion around cybersecurity, how cybercrime is affecting businesses, and how the business analysis community can help.
---
Want more tech news? Subscribe to ComputingEdge Newsletter Today!
---
Cybersecurity Isn't Just a Problem for IT – It's Also One for the Business Analysis Community
Many company leaders have IT professionals lead cybersecurity initiatives. While there is nothing wrong with this, it's vital to understand that cybersecurity isn't just an IT issue. It's also one that affects business analysis professionals.
Professionals who practice proactive cybersecurity analysis can help business leaders outline cybersecurity risks, identify opportunities, mitigate risks, and keep a watchful eye on the business' operational effectiveness. They should be a vital part of any cybersecurity team. Ideally, there should be plenty of room for business analysis professionals in the cybersecurity space. While they may not work independently of IT professionals, they can work in tandem with them to meet the business's needs.
Another reason why cybersecurity isn't just a problem for IT is that the continued rise of cybersecurity threats isn't just changing IT. It is also changing the overall business landscape. In fact, 68% of business leaders feel their cybersecurity risks are increasing, according to Vumetric Cybersecurity. Also, a report released by Honeywell indicated 71% of surveyed facility managers in the US, Germany, and China consider OT (Operational Technology) cybersecurity to be a concern. "Conversations about cybersecurity often focus only on IT and safeguarding data and assets, but OT cybersecurity is just as critical when you think of the potential effects," reported Cleanroom Technology. By allowing business analysis professionals, who have a thorough understanding of every facet of the business, to co-manage cybersecurity initiatives, organizational leaders can lower companies' cybersecurity risks.
Cybersecurity Statistics Business Analysis Professionals Need to Know About
Business analysis professionals should always be highly informed about cybersecurity issues. They should be aware not just that cybersecurity incidents are rising, but of the specific ways they are increasing. According to Packet Labs, there has been a 300% increase in reported cybercrimes in the US since the pandemic started. "As early as April 2020, 52% of legal and compliance leaders were already worried about third-party cybersecurity risk following the pandemic." In addition, remote work has increased the average total cost of a data breach by almost $137,000. Interested in more industry insights for business analysis professionals? Discover more in IIBA's cybersecurity infographic.
These statistics are overwhelming, and they prove that thousands of businesses are suffering due to a lack of effective cybersecurity. By understanding that cybersecurity isn't solely an IT issue, business analysis professionals will be better equipped to take an all-hands-on-deck approach to deal with cyber risks.
How Business Analysis Professionals Can Become More Comfortable with Cybersecurity Concepts
To stay competitive in today's job market and meet the needs of clients and employers, it is critical that business analysis professionals learn more about cybersecurity analysis. They can become more comfortable with cybersecurity concepts by putting certain tools to good use and taking advantage of learning opportunities for business analysis professionals.
Cybersecurity remains a top priority for businesses. Therefore, it should be a top priority for business analysis professionals. Pursuing the Certificate in Cybersecurity
 Analysis, offered by IIBA and IEEE Computer Society, is the most direct way for business professionals to upskill themselves in data security and remain relevant post-COVID.
Courses are presented by two leading experts in cybersecurity analysis, and the learning material is aligned and based on ISO standards in cybersecurity. The program
 provides the credibility of a joint certification and the opportunity to learn key cybersecurity concepts and tools business analysis professionals need to demonstrate core competencies.
For a limited time take advantage of deep discounts on Cybersecurity Analysis packages – only available during Cybersecurity Awareness Month!
About IIBA
International Institute of Business Analysis™ (IIBA®) is a professional association dedicated to supporting business analysis professionals to deliver better business outcomes. IIBA connects almost 30,000 Members, over 100 Chapters, and more than 500 training, academic, and corporate partners around the world. As the global voice of the business analysis community, IIBA supports recognition of the profession, networking and community engagement, standards and resource development, and comprehensive certification programs.
For more information visit IIBA.org
Recommended by IEEE Computer Society