Unified Communication as a Service (UCaaS): 7 Reasons Why It's Time to Adapt to UCaaS
Are you thinking of making a move to the cloud for your business communications needs? The time is now.
57% of businesses reported increased spending on UCaaS solutions in 2021. With the stability of remote workforces, this figure will undoubtedly grow.
Legacy communication systems no longer serve a purpose in modern workplaces. As a result, businesses seeking enhanced productivity and streamlined internal and external communications are turning to UCaaS for the solution.
UCaaS refers to a combination of communications methods to assist business operations. Elements of unified communications include:
Video and Web Conferencing.
Telephony.
File and Screen Sharing.
Instant Messaging.
Email.
Contact Management.
Collaboration Tools.
Voicemail.
Performance Dashboards.
Residing in the cloud, these technologies combine into a single interface accessed via computers, smartphones, and desk phones for the ultimate in business flexibility.
The unification of communications and collaborations provides organizations with many benefits. You can find out more about the quality of unified communication services here.
Let's explore seven of the main reasons why it's time for your business to adapt to UCaaS.
---
Want More Tech News? Subscribe to ComputingEdge Newsletter Today!
---
1. Save Money
---
Making the switch to cloud communications means that your business can potentially save money on:
Maintenance.
IT Staff.
Licensing.
Equipment.
Network costs.
Your UCaaS provider hosts the equipment and grants your business access through the cloud, so maintenance costs are obsolete. Your provider also performs QA testing to ensure that you receive the best cloud service possible. Necessitating just an internet connection, network costs are absorbed into a flat monthly fee for cloud services which encompass hosting, energy, maintenance, and upgrades.
There isn't a requirement for costly hardware or administration time; you just pay for your services. In addition, monthly expenses are based on the number of users, which means that you can accurately predict ongoing communications costs.
Businesses adapting to UCaaS often find no need for specialist IT assistance to manage communication systems. UCaaS enables your business to budget effectively and streamlines costs.
2. Enhance Remote Working
---
Legacy phone systems are not up for an entirely remote workforce challenge, especially if they're scattered across the globe. UCaaS brings entire teams together and makes collaboration a breeze. In addition, UCaaS-ready phones retain all users' information and manage the network remotely to maintain your business continuity.
All team members need is a stable internet connection, and they are empowered to call, message, video conference, file share, screen share, and email with ease. UCaaS enables remote teams to continue working as usual from any location. Engaging with colleagues and customers via video offers meaningful opportunities for customer experience analytics and a real chance to improve your business's service offering.
3. Superior Functionality
---
UCaaS enables communication and collaboration through multiple channels, giving staff members the power to work smarter and get more done. Cloud-based communications tools like voicemail forwarding, file sharing, and mobile capabilities work together to ensure that no important calls are missed and relevant team members have all the information they need, wherever they are.
UCaaS even delivers real-time analytics, allowing your business to make accurate and rapid decisions based on data insights. Real-time insights from analytics can help to improve workflows, drive productivity, and create smarter marketing campaigns based on valuable business data.
Unified solutions offer customers the choice of communications channels to reach your business. This choice delivers better customer service and an overall enhanced experience with your brand.
4. Reliability
---
It's essential that your business communications are reliable and that your customers can reach your company at all times. After all, business disruption is lethal and must be avoided at all costs.
Your UCaaS provider works with you to establish a network based on solid disaster recovery and business continuity assurance. Cloud computing in the business environment offers reliability, so you can be confident that your business remains connected even during outage periods. Be reassured that your UCaaS setup offers technical support whenever your business needs it.
5. Security
---
Combining your communication channels into one platform means you can more easily control security issues. By nature, cloud-based services offer an enhanced level of cybersecurity protection, and UCaaS providers take the security of your business's data very seriously. UCaaS services offer 24/7 monitoring for peace of mind. By contrast, businesses with multiple communication tools must keep on top of security patches and updates. All of which can be extremely time-consuming.
Generally, cloud-based communications are safer than on-premise solutions due to the advanced firewalls, multiple security layers, and continuous monitoring. However, a UC service is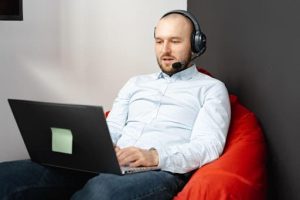 more than a phone service. As such, your UCaaS provider is entrusted to transfer confidential documents. There may also be a requirement to provide other cloud services such as storage, server backup, or voice recording. These additional offerings must maintain a high level of security and customer confidentiality.
Seek a UCaaS provider that promotes stringent security protocols and encryption methods. Good advice is to check out potential suppliers' cloud computing case studies to verify that they meet your business's security needs. If your business is in a regulated industry, you'll also need to check compliance issues with your potential cloud provider.
Typically, UCaaS providers offer:
End-to-end encryption.
HIPAA/PCI compliance.
SSO/multi-factor authentication.
Third-party security certifications such as SOC II and GDPR.
Advanced administration controls and management.
6. Scalability
---
Cloud communications offer your business the opportunity to scale up or down as necessary. For example, you can add additional lines or users to your VoIP system in the event of new staff members and reduce capacity in quieter periods. All functionalities are accessed via a single platform and controlled in-house, without the need for additional IT support.
Your UCaaS provider will update your service automatically with new features and upgrades and ensure you're running the latest version.
7. Quick Connection
Cloud communications services are simple to set up and require minimal training for your team. Choose a UCaaS solution that offers number porting for an even easier transition from your on-premise system. Because the software is installed over your existing internet connection, the installation of UCaaS is quick and painless.
Top UCaaS Features
---
Businesses take advantage of the following enhanced collaboration and types of software features UCaaS provides:
Virtual Faxing – faxing by email to quickly send sensitive documents.
Unified Messaging – receive voicemail transcriptions through email.
Team Presence – check your team's availability for meetings and messages.
Mobile and Desktop Softphones – sync desk phones with smartphone apps.
File-sharing – save time with files all in one location and co-edit documents in real-time with colleagues.
CRM Integrations – combine CRM functionality with your unified communications platform.
The UCaaS Marketplace
---
One of the great things about UCaaS is that there's no end to the available features and innovations to improve your business. Future conceptions for organizations in the ad exchanges business and related industries could include:
Artificial intelligence and machine learning to enhance call rates in contact centers.
Intelligent call routing functions to improve customer service.
Consumer data and analytics integrations.
Finding a UCaaS Provider
---
We've mentioned some great features of UCaaS, but only you can determine the best-fit supplier for your business. Some things to think about when choosing a UCaaS provider include:
Affordability – choose a provider with a subscription model that offers good value for money.
International calls – if your business deals with global consumers and suppliers, find a UCaaS provider that offers unlimited VoIP calling minutes for simple business communications bills.
Reliability – ask your potential provider about expected uptime SLAs.
Communication channels – before switching, establish with your team the communication channels being used to decide on the most needed features.
Features – choose features that are best suited to your business needs. Decide whether you'll need call routing, IVR, and/or voicemail to email transcriptions services.
Advanced functions – check for upcoming UCaaS features, such as AI-powered technology and speech analysis, to stay ahead of the competition and offer exceptional customer service.
Phased migration options – if you're considering a phased migration to UCaaS, enlist a provider that can facilitate this as a solution and offer training if necessary.
Is Your Business Ready for UCaaS?
---
Ask yourself the following questions to determine how ready your business is to embrace UCaaS technology:
Does your business comprise some remote team members or even an entirely remote workforce?
Is your business currently growing at a rapid rate?
Are you looking to deliver a better experience for your customers?
Would you like to automate some of your organization's manual processes?
Do you want to improve your business's call handling steps?
If the answer is a resounding 'Yes' to any of the above, it's time to take the next step.
UCaaS enables your business to grow while maintaining the same level of productivity and no interruptions to business operations. So it's time to take advantage of everything UCaaS has to offer. And UCaaS offers a lot: flexibility, reliability, security, mobility, and serious cost savings to your communications bills.
Placing your communication infrastructure into a cloud-based environment allows your business to create an environment as flexible as you need it to be.
About the Writer
---
Severine Hierso is EMEA Senior Product Marketing Manager for RingCentral Office, the leader in cloud and customer experience analytics solutions, passionate about creating value, differentiation, and messaging, ensuring a better experience for customers and partners. She has gained extensive international Product Marketing, Market Research, Sales Enablement, and Business development experience across SaaS, Telecommunications, Video Conferencing, and Technology sectors within companies such as Sony, Cisco, Cogeco Peer 1, and Dimension Data/NTT. Severine Hierso has also published articles for domains such as WeVideo and Covideo.
Recommended by IEEE Computer Society