Region 10 Newsletter for January – March 2022 – Now Available!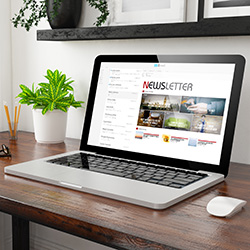 The IEEE Computer Society Region 10 has released its first newsletter issue of 2022. The newsletter for the period Jan-Mar 2022 provides information from the Regional Coordinator and the newsletter editor, updates on regional and chapter activities, and articles on varied topics from professionals.
Messages
---
In this edition, the Region 10 Coordinator, Mohamed Rawidean Mohd Kassim, discusses plans for more value-added strategies and programs for the benefit of IEEE CS members in Region 10, including strategy for industry participation and offerings, such as R10 CS Summit, R10 CS Newsletter, R10 CS Webinar Series, R10 Chapter Chairs Meeting and R10 CS Grants. In addition, the Editor, H.R. Mohan, has introduced the edition with a call for information from Chapters for upcoming newsletters.
Articles
---
The 82-page newsletter offers insights on topics ranging from historical importance, such as Looking Back Through the Era of Punched Card by Debasish Jana, to subjects that will define our future, like the Metaverse (Exploring the Metaverse by T.A. Balasubramanian). We also have articles on security, intelligent transportation systems, careers, quantum internet, etc.
The complete list of articles includes:
How NoCode and LowCode platforms are changing the way software is built by Jagdish Bajaj, Canada
Exploring The Metaverse by T.A. Balasubramanian, Maxigen Communications, India
Everything you need to know about Hybrid Cloud Network Connectivity by Malarvizhi Kandasamy, IBM India Software Labs, India
Looking Back Through Era of Punched Card by Debasish Jana, TEOCO Software Pvt Ltd, India & Pinakpani Pal, Indian Statistical Institute, India
Emerging Role of a Telepresence Robot by Brojeshwar Bhowmick & Abhijan Bhattacharyya, TCS, India
Speech-Driven Virtual Talking Avatar by Sanjana Sinha & Brojeshwar Bhowmick, TCS, India
Security Hazards in Cloud Computing by Sharmila Musunuru, Microsoft, Singapore
Improving Software Quality using Continuous Integration and Continuous Deployment Pipelines by Sridhar Pandurangiah, Sastra Technologies, India
Leading with inclusivity in a remote-first workplace by Rukmani Ravisundaram, Meta Platforms Inc, USA
Edge Computing—Security Challenges and Trust Models by Lokesh Balu and Mini TT, Dell Technologies, India
Quantum Internet and Cryptography by Kingshuk Gupta and Chetan Waghela, Okrishi, India
Audiovisual Technologies in e-Learning by T. S. Gopalakrishnan, AVIXA, India
Emerging Career Opportunities in Integrated Systems Bioinformatics by Prashanth Suravajhala, Amrita Vishwavidyapeetham, and Jayaraman Valadi, Flame University, India
Intelligent Transportation Systems Trends and Challenges – An Overview by Hema Tanikella, Atkins North America Inc. USA
Working Hard and Working Smart by Sasikumar M, CDAC, India
H.R. Mohan also offers a column on Information Resources. In addition, briefs on a few books of relevance and use to our members are included in the newsletter.
You can access the newsletter below:
Please provide your valuable feedback by email at ieeecs.r10nl@gmail.com
Recommended by IEEE Computer Society