IEEE Life Fellow Raul Colcher Talks About the Latest in Connected Cars and Homes
By Lori Cameron
Raul Colcher, an IEEE Life Fellow, is back in the news with insights on connected cars and homes, briefly explaining some of the latest technology designed to improve performance, protect privacy, and secure data.
Colcher, partner and president of Questera Consulting, is a communications engineer at the Military Engineering Institute (IME) in Rio de Janeiro. He served as vice president of the United Nations Center for Electronic Business and Trade Facilitation (UN/CEFACT) in Geneva, Switzerland, and Rapporteur UN/EDIFACT for the Americas.
Colcher talks about our smart cars and homes in a special interactive presentation, whose links are below:
Colcher is one of several IEEE Computer Society members who contributed insights for a recent privacy and security campaign featured on the IEEE Transmitter website, a place where industry leaders can keep their fingers planted firmly on the pulse of recent developments in sustainable technology.
Want to learn more about the accomplishments, activities, and innovations of our members? Subscribe to the INSIDER newsletter.
About IEEE Transmitter
Across the globe, IEEE members are leading research and innovation that will positively impact sustainability, and move us closer to achieving environmental equilibrium. From building alternative energy solutions to developing new approaches to growing and cultivating agricultural crops, technology and innovation continue to transform the way we live and how we protect the planet. IEEE Transmitter features many interactive stories about the efforts of our members across the globe as they address environmental challenges through technological transformation.
---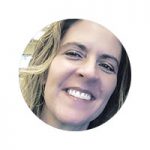 About Lori Cameron
Lori Cameron is Senior Writer for IEEE Computer Society publications and digital media platforms with over 20 years extensive technical writing experience. She is a part-time English professor and winner of two 2018 LA Press Club Awards. Contact her at l.cameron@computer.org. Follow her on LinkedIn.