Gallery of 2018 IEEE Computer Society Award Winners
By Michael Martinez
The IEEE Computer Society Awards, given annually to computing professionals and academicians, are among the field's highest honors.
The vast majority of the awards recognize technical achievement in computer science and engineering. Two awards are also given in the area of education, and another award is for service for the society.
This year, two major venues became the setting for almost half of the awards, further bonding this community of technology leaders.
The June meeting of the Computer Society Board of Governors held a dinner during their regular meeting in Phoenix, Arizona, to honor several winners.
A group of other winners received their awards at the 2018 IEEE Computer Society Signature Conference of Computers, Software and Applications (COMPSAC 2018) in July in Tokyo, where two of those winners were also keynote speakers.
Here are the highlights of the 2018 winners, including those from the Phoenix and Tokyo gatherings, which have appeared on our Facebook, Instagram, Twitter, and LinkedIn channels.
Winners honored at IEEE Computer Society Board of Governors meeting
They displayed a good measure of collegiality in their group shot.

In the photo above, winners are joined by their family members and the volunteer leaders on the Society's Board of Governors.
How can you spot the winners in the group photo? Well, the winners were also recognized individually during the Phoenix gathering.
Above, Travis Doom, Professor and Associate Chair in the Department of Computer Science and Engineering at Wright State University (WSU), receives the 2018 Computer Science and Engineering Undergraduate Teaching Award. While appearing at the June 2018 award ceremony, Doom is recognized by the IEEE Computer Society "for tremendous contributions to Computer Science and Engineering through a balanced career incorporating research, mentoring of students, curriculum and pedagogy development, and service."
Oyekunle Olukotun, Cadence Design Systems Professor of Electrical Engineering and Computer Science at Stanford University, attends a June award ceremony to receive the IEEE Computer Society 2018 Harry H. Goode Award.
The Goode Award was established to recognize achievements in the information processing field that are considered either a single contribution of theory, design, or technique of outstanding significance, or the accumulation of important contributions on theory or practice over an extended period.
A well-known pioneer in multicore processor design and the leader of the Stanford Hydra Chip Multiprocessor (CMP) research project, Olukotun is recognized "for fundamental and sustained effort to create and leverage chip-multiprocessors."
Daniel P. Siewiorek (center), Buhl University Professor of Electrical and Computer Engineering and Computer Science at Carnegie Mellon University, accepts the 2018 recipient of the IEEE Computer Society Taylor L. Booth Education Award. Left of him is Kasahara. At right is Paolo Montuschi, the awards committee chair and a Professor of Computer Engineering at Politecnico di Torino.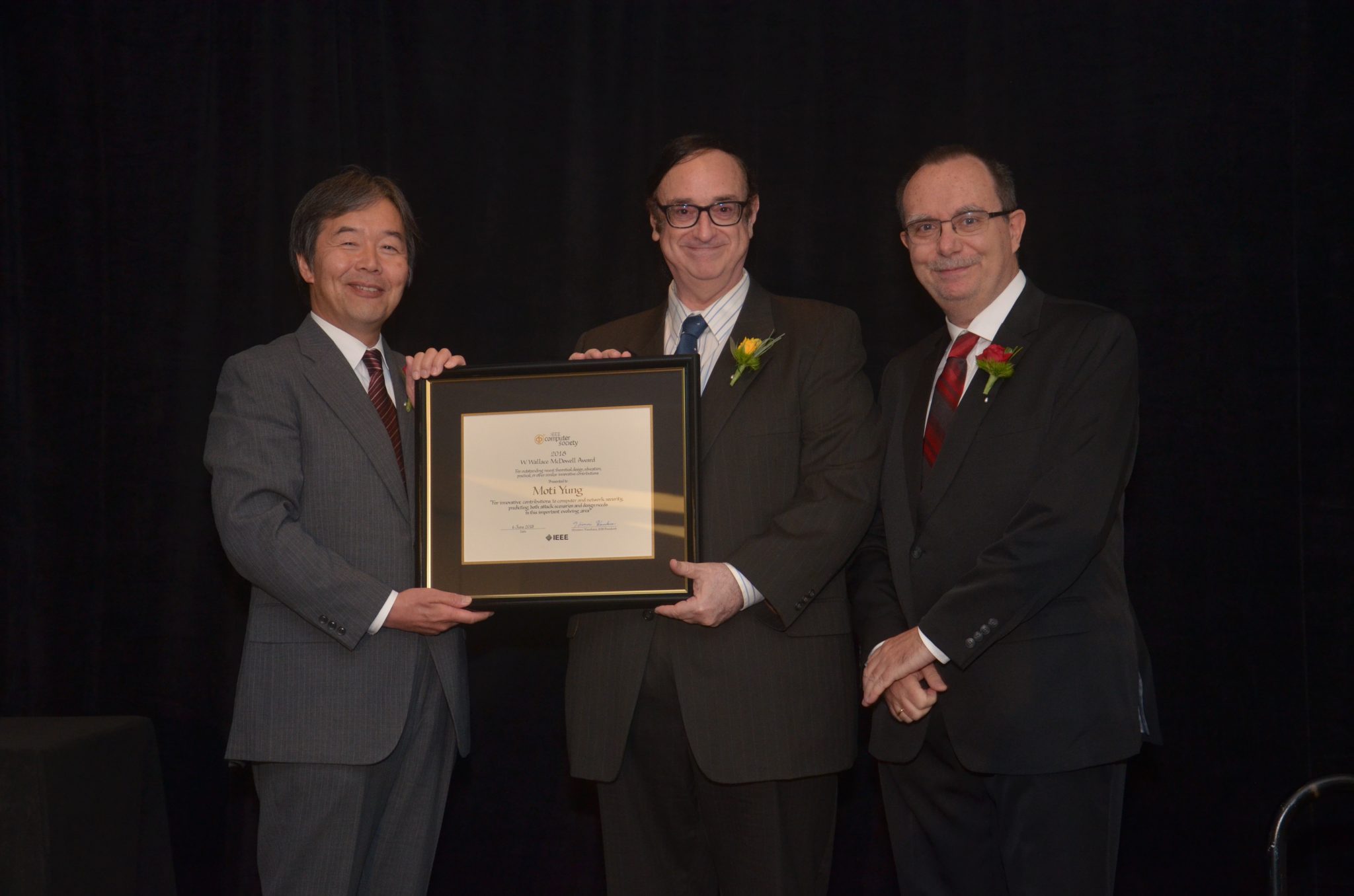 Dr. Moti Yung (center), fellow of IEEE and ACM, receives the IEEE Computer Society 2018 W. Wallace McDowell Award. Yung is being recognized "for innovative contributions to computer and network security, predicting, both attack scenarios and design needs in this important evolving era." Yung is an adjunct senior research faculty member at Columbia University where he worked with and co-advised numerous PhD students over the years. In parallel, Yung has had a research scientist career in industry, where he worked for IBM Research, Certco, RSA Laboratories, Google, and Snap.
Jeff Rearick (center, above), Senior Fellow at Advanced Micro Devices, receives the 2018 IEEE Computer Society Hans Karlsson Award. Rearick is being recognized "for his vision, extraordinary skills and dedication in leading, shaping, and promoting the IEEE 1687 standard that provides access to embedded semiconductor instrumentation." At Advanced Micro Devices, (AMD) Rearick and his team are responsible for the Design-For-Testability strategy and roadmap for the company. In his 12 years at AMD and in the 22 previous years at HP/Agilent, he has worked on many aspects of integrated circuit testing, from hands-on testing of microprocessors to test automation tools to DFT architecture.
IEEE Computer Society 2011 President and Senior IEEE Member Dr. Sorel Reisman (center) receives the 2018 Richard E. Merwin Award for Distinguished Service.
Reisman is recognized "for sustained contributions, leadership, and service to the IEEE Computer Society, the IEEE and the computing profession at large." A professor of information systems in the Department of Information Systems and Decision Sciences at California State University, Fullerton, Reisman is Managing Director of the international higher education, educational technology consortium, MERLOT (Multimedia Educational Resource for Learning and Online Teaching) at the California State University Office of the Chancellor.
Winners recognized at COMPSAC 2018
The five-day COMPSAC in Japan offered another high-profile venue to honor winners.
Above, Margaret Martonosi receives the IEEE Computer Society 2018 Technical Achievement Award for her "contributions to power-aware computing and energy-constrained mobile sensor networks."
Martonosi is the Hugh Trumbull Adams '35 Professor of Computer Science at Princeton University, where she is also director of the Keller Center for Innovation in Engineering Education.
Martonosi's research interests are in computer architecture and mobile computing, with particular focus on power-efficient systems. Her work has included the development of the Wattch power modeling tool and the Princeton ZebraNet mobile sensor network project for the design and real-world deployment of zebra tracking collars in Kenya. Her current research focuses on hardware-software interface issues in modern computing systems, including tools for quantum computing.
Among numerous awards, she received the 2010 Princeton University Graduate Mentoring Award and the 2013 Anita Borg Institute Technical Leadership Award.  Several of her papers have been honored for their long-term impact, including the 2015 ISCA Long-Term Influential Paper Award, the 2017 ACM SIGMOBILE Test-of-Time Paper Award, and the 2017 ACM SenSys Test-of-Time Paper Award.
Kasahara is delivering her the honors.
Bjarne Stroustrup (center), Managing Director in the technology division of Morgan Stanley, New York City, and visiting professor at Columbia University, receives the IEEE Computer Society's 2018 Computer Pioneer Award.
This award is given for significant contributions to early concepts and developments in the electronic computer field, which have clearly advanced the state-of-the-art in computing. Stroustrup is being recognized "for bringing object-oriented programming and generic programming to the mainstream with his design and implementation of the C++ programming language." Stroustrup is the designer and original implementer of C++, the author of The C++ Programming Language (Fourth Edition) and A Tour of C++, Programming: Principles and Practice using C++ (Second Edition), and many popular and academic publications.
Stroustrup accomplished much of his most important work in Bell Labs. His research interests include distributed systems, design, programming techniques, software development tools, and programming languages.
Professor Akira Kawai (center) of Shiga University receives the Information Processing Society of Japan (IPSJ)/IEEE Computer Society Young Computer Research Award for "Outstanding Research on Intelligent Car Navigation System for Multilevel Parking Facilities."
At left is Kasahara. At right is Information Processing Society of Japan President Prof. Shojiro Nishio, also president of Osaka University.⠀
Associate Professor Yutaka Arakawa (center) of the Ubiquitous Computing System Laboratory received the IPSJ / IEEE Computer Society Young Computer Researcher Award on for his "Outstanding Research on Human Behavior Change by Information Technology."⠀
And last but not least, Professor Yukihiko Shigesada (center) of Hosei University receives the final IPSJ / IEEE – CS Young Computer Researcher Awards at COMPSAC.
The conference is a major international forum for academia, industry, and government to discuss research results and advancements, emerging problems, and future trends in computer and software technologies and applications.
Winner acknowledged at ASE2018 Conference
The 33rd IEEE/ACM International Conference on Automated Software Engineering served as the site for one award ceremony. The ASE2018 conference was held at the Corum, Montpellier, France from September 3 to 7, 2018.
Gail Murphy, Professor in the Department of Computer Science and Vice-President Research and Innovation at the University of British Columbia, receives the IEEE Computer Society's 2018 Harlan D. Mills Award.
A Fellow of the Royal Society of Canada and a Fellow of the ACM, Murphy is recognized "for outstanding research on understanding software-development practices and tools that improve the productivity of developers."
Murphy's research interests are in improving the productivity of software developers and knowledge workers by giving them tools to identify, manage and coordinate the information that really matters for their work. The part of being a faculty member she enjoys the most is "working with fabulous students."
Computer architecture's top award
Appropriately enough, the International Symposium on Computer Architecture became to forum to honor a computer architect.  ISCA2018 enjoyed record attendance at almost 800 participants, held in downtown Los Angeles in June.
In the above video, Susan Eggers, a professor at the University of Washington's Paul G. Allen School of Computer Science & Engineering, gives an acceptance speech for receiving the 2018 Eckert-Mauchly Award.
Eggers was cited for outstanding contributions to simultaneous multithreaded processor architectures and multiprocessor sharing and coherency. The Eckert-Mauchly Award is known as the computer architecture community's most prestigious award, jointly issued by the Association for Computing Machinery and IEEE Computer Society.
Widely recognized as one of the leading computer architects in the field, Eggers is the first woman to receive the Eckert-Mauchly Award in its 39-year history. She is also atypical among engineers in that she received a BA degree in Economics in 1965 and worked in related fields for 18 years before deciding to switch careers and pursue research in computer engineering. In 1983, she joined the graduate program in the Department of Electrical Engineering and Computer Sciences at the University of California, Berkeley and began working toward a PhD.
Read our profile of Susan Eggers and how she was once told "Little girls should be seen, not heard"
Computer Pioneer Award
Google co-founders Sergey Brin and Larry Page are selected to receive the IEEE Computer Society's 2018 Computer Pioneer Award.
This award acknowledges significant contributions to early concepts and developments in the electronic computer field that have clearly advanced the state of the art in computing. Brin and Page are being recognized "for the creation of the Google search engine and leadership in creating ambitious products and research initiatives."
Together, Brin and Page developed the PageRank algorithm and used it to build Google's search engine, which is now the most-used search engine in the world.
The Google co-founders have declined an invitation to appear at an IEEE Computer Society gathering to receive their award, but the invitation still stands if they change their minds.
Microarchitecture
Dr. Ravi Nair is named as the recipient of the 2018 B. Ramakrishna Rau Award, which honors significant contributions in the field of computer microarchitecture and compiler code generation.
Dr. Nair is being recognized "for contributions to branch prediction in processors, microarchitecture techniques in heterogeneous processing, microarchitecture support for virtual machines, and near-memory processing."
A researcher at the IBM Thomas J. Watson Research Center, Dr. Nair is currently working in the area of artificial intelligence (AI), aiming to understand how AI can be made more effective, not only from a performance point of view, but also from an ethical point of view.
He was to have formally received his honor at the 51st Annual IEEE/ACM International Symposium on Microarchitecture in Fukuoka City, Japan, in late October.
High-performance computing
Professor Linda Petzold, a Distinguished Professor at the University of California, Santa Barbara, receives the Sidney Fernbach Award.
Petzold is cited for "pioneering contributions to numerical methods and software for differential-algebraic systems and for discrete stochastic simulation."
Best known for her pioneering work on the numerical solution of differential-algebraic equations (DAEs), Petzold's research focuses on modeling, simulation and analysis of multiscale systems in materials, biology and medicine. Petzold's software, DASSL and its successor DASPK for the numerical solution of DAEs, is widely used throughout science, engineering and technology.
Petzold has also made seminal contributions in the area of systems biology.
Established in 1992 in memory of high-performance computing pioneer Sidney Fernbach, the award recognizes outstanding contributions in the application of high-performance computers using innovative approaches.
Computer Engineering
Dr. David E. Shaw, chief scientist of D. E. Shaw Research and a senior research fellow at the Center for Computational Biology and Bioinformatics at Columbia University in the City of New York, is the  recipient of the Seymour Cray Computer Engineering Award.
Shaw is recognized for his "design of special-purpose supercomputers for biomolecular simulations."
Since 2001, Dr. Shaw has devoted his time to hands-on research in the field of computational biochemistry.  His lab is currently involved in the development of new algorithms and machine architectures for high-speed biomolecular simulations, and in the application of such simulations to basic scientific research and computer-aided drug design.
Dr. Shaw was appointed to the President's Council of Advisors on Science and Technology by President Clinton in 1994, and again by President Obama in 2009.  He is a two-time winner of the ACM Gordon Bell Prize, and was elected to the American Academy of Arts and Sciences in 2007, to the National Academy of Engineering in 2012, and to the National Academy of Sciences in 2014.
He received his Ph.D. from Stanford University in 1980, served on the faculty of the Computer Science Department at Columbia until 1986, and founded the D. E. Shaw group in 1988.
Programmability
Sarita Adve, the Richard T. Cheng Professor of Computer Science at the University of Illinois, Urbana-Champaign, wins the 2018 ACM/IEEE-CS Ken Kennedy Award.
Adve is recognized "for research contributions and leadership in the development of memory consistency models for C++ and Java, for service to numerous computer science organizations, and for exceptional mentoring."
Adve co-developed the memory models for the C++ and Java programming languages (with Hans Boehm, Bill Pugh, and others), based on her early work on data-race-free (DRF) models (with Mark Hill).
The Association for Computing Machinery (ACM) and the IEEE Computer Society (IEEE-CS) co-sponsor the Kennedy Award, which was established in 2009 to recognize substantial contributions to programmability and productivity in computing and significant community service or mentoring contributions. It was named for the late Ken Kennedy, founder of Rice University's computer science program and a world expert on high-performance computing.
Three rising stars in supercomputing
Three winners were selected for IEEE Computer Society (IEEE-CS) Technical Consortium on High Performance Computing (TCHPC) Early Career Researchers Award for Excellence in High Performance Computing: Lin Gan of Tsinghua University and the National Supercomputing Center in Wuxi, Min Si of Argonne National Laboratory, and Edgar Solomonik of University of Illinois at Urbana-Champaign.
Dr. Lin Gan is the assistant director, as well as the director of the R&D center, at the National Supercomputing Center in Wuxi. He is also an assistant research fellow in the department of Computer Science at Tsinghua University, where he received his PhD in computer science at 2016.
His research interests include high-performance solutions to scientific applications based on state-of-the-art platforms such as CPU, FPGAs, and GPUs. He is currently leading several major projects to develop highly-efficient software and tools for the Chinese-produced Sunway CPUs, and to look for architectures for next-generation supercomputing systems.
Gan is also the recipient of the 2016 Gordon Bell Prize, the finalist of the 2017 Gordon Bell Prize, the Most Significant Paper Award in 25 Years awarded by FPL 2015, and the 2017 Tsinghua-Inspur Computational Earth Science Young Researcher Award.
Dr. Min Si is an assistant computer scientist in the Mathematics and Computer Science Division at Argonne National Laboratory. Si's research interests include communication runtime in high-performance computing and parallel programming models. She is leading the MPI RMA and OpenSHMEM research at Argonne and contributing to the widely used MPICH library.
Si received her master's degree and Ph.D. in computer science from the University of Tokyo, Japan, in 2012 and 2016, respectively. From 2016 to April 2018, she was an Enrico Fermi Fellow at Argonne National Laboratory.
Si won the Karsten Schwan Best Paper Award at HPDC 2018. She was awarded the Dean's Award for Outstanding Achievement Doctoral Course from the University of Tokyo in 2016 and the Computer Science Research Award for Young Scientists from the Information Processing Society of Japan in 2012. Her work appears in major HPC conferences and journals including SC, HPDC, IPDPS, ICS, and TPDS.
Dr. Edgar Solomonik is an Assistant Professor in the Scientific Computing group of the Department of Computer Science at the University of Illinois at Urbana-Champaign. He received his BS also at the University of Illinois, his PhD at University of California, Berkeley, and was a postdoctoral fellow at ETH Zurich.
Solomonik's research has developed more scalable numerical algorithms and high-performance computing libraries. His research group, the Laboratory for Parallel Numerical Algorithms, leads the development of the Cyclops library for tensor computations, which encapsulates optimized communication-avoiding algorithms using a high-level language for tensor algebra. Cyclops has enabled groundbreaking simulations of electronic structure and quantum circuits, while also being applied to graph and data analysis.
Solomonik has been the recipient of the Alston Householder prize in numerical linear algebra, the UC Berkeley David Sakrison prize, the NERSC award for Innovative Use of High Performance Computing and the ACM-IEEE George Michael HPC Fellowship.
The IEEE-CS TCHPC Award for Excellence for Early Career Researchers in High Performance Computing is sponsored by the IEEE-CS Technical Consortium on High Performance Computing (TCHPC) and its member Technical Committees:
Technical Committee on Parallel Process (TCPP)
Technical Committee on Computer Communications (TCCC)
Technical Committee on Distributed Processing (TCDP)
Technical Committee on Cloud Computing (TCCLD)
Task Force on Rebooting Computing (TFRC)
Technical Committee on Computational Life Sciences (TCCLS).
The TCHPC Award recognizes up to three individuals who have made outstanding, influential, and potentially long-lasting contributions in the field of high performance computing within five years of receiving their PhD degree as of January 1 of the year of the award.
---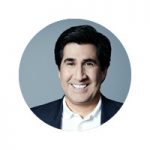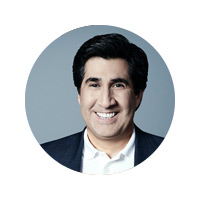 About Michael Martinez
Michael Martinez, the editor of the Computer Society's Computer.Org website and its social media, has covered technology as well as global events while on the staff at CNN, Tribune Co. (based at the Los Angeles Times), and the Washington Post. He welcomes email feedback, and you can also follow him on LinkedIn.