To kick off our 2019 career features, we interviewed Christine Miyachi, who has almost 30 years of experience working for startups and large corporations. She also writes a blog about software architecture.
Miyachi is currently a principal systems engineer and architect at Xerox Corporation and holds several patents.  She works on Xerox's Extensible Interface Platform, which is a software platform upon which developers can use standard web-based tools to create server-based applications that can be configured for the multi-function peripheral's  touch-screen user interface.  Read more about Miyachi at www.christinemiyachi.com.
Looking for a career move? Build a profile and explore our Jobs Board.
Last year in late October, Miyachi participated in the "Women Making the Future" panel discussion at the IEEE Future Directions Technology Time Machine Symposium. We asked Miyachi about her work in the field of software architecture.
Advice for Women in STEM
Computer Society: What are the biggest advances to expect in the field of software architecture?
Miyachi: The biggest advances that will occur in software architecture and engineering is automation for both testing and development. It frees software developers from mundane tasks, and, more importantly, creates more reliable software through continuous test methods.
Computer Society: As a woman in tech, do you have any learning experiences you could share to benefit women just starting out in their STEM careers?
Miyachi: Believe in your abilities and hold your head high.  Don't let anyone tell you that you do not have ability.
Computer Society: What advice would you give college students to give them an advantage over the competition and why?
Miyachi: Find an open source project that you can contribute too—real world projects are often more nuanced and complex than class work.  You have to figure out what needs to be done.  Companies will be impressed with your contribution.  This is hard to do when you also have your class work to do, so find a project you are passionate about.
Like what you're reading? Stay ahead of your field and sign up here for our Build Your Career or Computing Edge newsletters to get content like this delivered right to your inbox weekly.
Who is Anita Borg
Computer Society: In your profession, who is your hero and why?
Miyachi: A computer scientist I respect the most is Anita Borg, founder of Systers.org a private email forum for women who are university students or working in the technical side of computing.
Computer Society: What rejuvenates your intellectual and creative energy the most?
Miyachi: The things that rejuvenate me the most are meditation, yoga, running outside, and learning new technologies.
Computer Society: How do you deal with difficult people?
Miyachi: My advice is this: Try not to take things personally as the difficulty is often not about you.
The IEEE Computer Society's Lori Cameron interviewed Miyachi for this article. Contact her at l.cameron@computer.org if you would like to contribute to a future article on computing careers.
---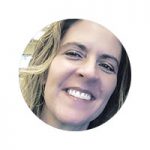 About Lori Cameron
ComputingEdge's Lori Cameron interviewed Douglas Fisher for this article. Contact her at l.cameron@computer.org if you would like to contribute to a future ComputingEdge articles.