Career Round Table: As the Market Soon Tops Half a Billion Dollars, the "Internet of Things" Will Revolutionize the Way We Live and Work. How to Get Ready.
By Lori Cameron
No doubt about it. The fourth industrial revolution is in high gear as evidenced by the proliferation of the so-called "Internet of Things."
Cyber-physical systems powered by the Internet of Things (IoT)—among them, smart grids, autonomous vehicles, medical systems, and robotics—are blurring the lines between the physical and digital worlds.
They are also revolutionizing the way we live and work.
By 2021, the combined IoT market will reach about 520 billion, driven primarily by data centers and analysis, say experts.
The challenges facing this high tech explosion include system integration, scalability, data storage, and security. The growing sector needs a varied workforce—data analysts, cloud engineers, security and privacy experts, and software designers as well as mechanical and electrical engineers.
We asked several IoT experts to tell us what changes job-seekers can expect over the next several years in the realm of IoT.
Here's what they predicted.
Related: Job-hunting? Subscribe to our Build Your Career newsletter.
IoT: Bridging the Disciplines
Florian Michahelles: Any career bridging the disciplines of mechanical engineering, electrical engineering, design, computer science, interactive design, and communications will be in high demand because IoT reaches across these disciplines.
Since 2013, Michahelles has run Siemens' Web of Things research group—which investigates the application of Semantic Web technologies to the Internet of Things (IoT). Having worked in the fields of ubiquitous and wearable computing for more than a decade, Michahelles' current focus at Siemens is leveraging Web and semantic technologies to enable new business opportunities, particularly in the fields of wearable sensing and human-robot interaction. He wrote "Internet of Things Reality Check."
IoT: Machine Intelligence and Networked Communications
Bruce West: The rapid emergence of the Internet of Things (IoT) is driven by two relentless trends in technology: machine intelligence and networked communications. Both contribute to an ever-increasing amount of available data concerning individuals, groups, businesses, and society as a whole. The security of these data, whether it is personal information, whose protection is necessary to avoid the loss of individual wealth through identity theft; intellectual property, whose security is necessary to maintain financial stability within and between countries; or the vulnerability of political activity, is made necessary to keep the IoT open, safe and user-friendly.
The growing need for such a variety of security measures necessitates the development of cybersecurity on the Internet of Things (IoT). However, the extraordinarily large scale of cybersecurity required for the IoT entails the development of new theoretical concepts, models and technical approaches, including device authentication, data processing, new computer architecture for distributed operation, and robust data processing schemes.
West is Chief Scientist Mathematics for the Army Research Office, University of Rochester. He is a senior research scientist interested in the nonlinear interactions among entities of all kinds and the types of emergent properties resulting from these interactions. West served previously as professor and chair of the physics department at the University of North Texas and director of research for the La Jolla Institute. He co-authored "The Internet of Battle Things."
Related: You never know what opportunities await. Upload your resume to our Jobs Board.
IoT: Semantics and User Interaction
Jaroslaw Domaszewicz: In my opinion, the greatest career growth in pervasive computing and the IoT will occur in two areas: semantics and user interaction.
Interoperability between independently developed and deployed things and applications is a key prerequisite to realizing the IoT's vision. Currently, many sense-and-react applications are hardwired by the programmer to use specific sensing and actuating resources. The IoT's vision, on the other hand, is that applications should be able to discover new things, sensors, actuators, and data at runtime, and take advantage of them afterward. Semantic models and machine-interpretable semantic descriptions are what make such interoperability possible. Currently, there are a number of initiatives to develop semantic models for the IoT. I believe there will be a need for professionals who are knowledgeable in both fundamental semantic technologies and the dynamic landscape of IoT resource-description standardization efforts.
Meanwhile, as the IoT pervades human environments, users will be able to interact with more and more services. Today's typical user already engages with many smartphone and tablet applications. There are concerns, though, that the growing amount of human-machine interaction might distract users and harm their productivity and well-being. Thus, IoT-enabled services and smart objects must be designed so that user interaction is intuitive and nonintrusive. Most likely, there will be a growing need for professionals who are knowledgeable in the related fields of user-centered design, user-experience design, and usability evaluation.
Domaszewicz is an assistant professor at Warsaw University of Technology's (WUT's) Faculty of Electronics and Information Technology and its Institute of Telecommunications. Domaszewicz's research interests include the IoT, pervasive computing, middleware, and the interaction between people and smart objects. He has led WUT's team in a number of European Union projects in these areas.
---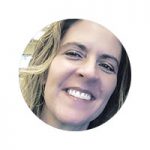 About Lori Cameron
Lori Cameron is Senior Writer for IEEE Computer Society publications and digital media platforms with over 20 years extensive technical writing experience. She is a part-time English professor and winner of two 2018 LA Press Club Awards. Contact her at l.cameron@computer.org. Follow her on LinkedIn.