Career Round Table: How Transformations in Information Technology Are Changing the Role of IT Professionals
By Lori Cameron
A perennial fixture in most businesses, the IT department is experiencing a major shift in priorities and focus. In the past, information technology experts were tasked primarily with responding to employee complaints and fixing network problems.
The most common instruction was "reboot."
Today, wireless networking and improvements in cloud services are expanding the role of IT technicians from problem-solvers to innovators. The focus now is on providing new services and developing advanced systems that contribute to the specific goals of the company. The "help desk" is fast becoming the "service desk."
We asked a couple of IT professionals about what graduates and job-seekers can expect as IT demands change in the coming years.
Here's what they had to say.
Job-hunting? Subscribe to our Build Your Career newsletter.
3D Integration and Nanophotonics as the Next Big Things in IT Careers
Thomas N. Theis: We'll see continued growth in digital and analog circuit design, in software design and development, and in computer science and architecture. Dramatic progress in information technology will be driven less by advances in the underlying device technology, which is maturing, and more by progress in circuit and system architecture. Dedicated architectures for machine learning are hot right now, but other new and specialized architectures will be developed and integrated into tomorrow's information-processing systems.
Advances in device technology will continue—the introduction of new memory devices, silicon nanophotonics for on/chip communication, increasingly sophisticated schemes for 3D integration, and more—which will offer career opportunities. But we're in the "build-out" phase of the information technology revolution, with investment increasingly focused on the new goods and services that can be based on the maturing device technology.
Theis, who has extensive experience in leading physical sciences research at IBM, the Semiconductor Research Corporation, and many federal initiatives, is professor of electrical engineering at Columbia University and executive director of the Columbia Nano Initiative. His research interests include emerging types of devices and computer architectures for energy-efficient computing. He co-authored the article "The End of Moore's Law: A New Beginning for Information Technology."
You never know what opportunities await. Upload your resume to our Jobs Board.
The Emergence of One Integrated Management System
Knut Haufe: Surely, there will be significant tech advances in the future, but, from my perspective, it will be most challenging to manage them properly. Management systems like information security management, business continuity management, data protection management, service management and so on will be loosening their borders. In the future, they will not be understood as silos anymore. Instead, they will be understood as one integrated management system in which information technology is managed from different viewpoints. Therefore there will be significant growth in integrating management systems.
Also, we will have a change in the focus of management systems from planning and building a management system towards the process-oriented operation of management systems.
Haufe is managing director and lead expert for information security management systems at PwC Cybersecurity Services. His research interests include process reference models, integrated management systems, and maturity levels. He co-authored "Improving Transparency and Efficiency in IT Security Management Resourcing."
---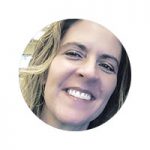 About Lori Cameron
Lori Cameron is Senior Writer for IEEE Computer Society publications and digital media platforms with over 20 years extensive technical writing experience. She is a part-time English professor and winner of two 2018 LA Press Club Awards. Contact her at l.cameron@computer.org. Follow her on LinkedIn.