Career Round Table: As Demand for Cloud Services Grows, So Does the Need for Programmers, Cybersecurity Specialists, and Administrators Who Can Deliver
By Lori Cameron
Because of its cost efficiency, scalability, and data security, businesses everywhere are moving their operations to the cloud in droves. Indeed, studies show that companies that use the cloud grow almost 20% faster than businesses that don't.
The demand for the cloud—along with related fog and edge computing—has resulted in a corresponding need for programmers, cybersecurity specialists, and administrators who can deliver top-tier services. The demand is strong.
We asked a panel of experts about the hottest tech advances in cloud computing that graduates and job-seekers can expect in the coming years.
Here's what they said.
Job-hunting? Subscribe to our Build Your Career newsletter.
How 'Cloud-Native' Applications Are on the Rise
Michael Swift: Beyond the move to the cloud that really started with Amazon Web Services,  I think the move to serverless computing, such as Amazon Lambda Functions, Microsoft's Azure Functions, and Google's Cloud Functions represent a new way to design applications to scale seamlessly and quickly meet varied workload demands.
Also, there has been interest in the notion of "cloud-native" applications: a lot of code running in the cloud started off running on dedicated servers and their designs still reflect that origin, such as assuming a fixed-size pool of resources. Apache Spark is like this — you start a cluster with a set of workers. In the cloud, you can quickly start or stop any number of workers, so it makes sense instead to figure out what the ideal number of workers for a given task is and use that many.
Swift is associate professor in the Department of Computer Sciences at the University of Wisconsin-Madison.  He leads the Sonar research group—which studies the interaction of operating systems and hardware, including devices and new processor/memory technologies—and participates in the Wisconsin Multifacet Project, which seeks to improve the multiprocessor servers that form the computational infrastructure for Internet web servers, databases, and other demanding applications. He co-authored the article "Rethinking Security in the Era of Cloud Computing."
DevOps Grows as Programming and Administration Blurs
Scott Campbell: I believe the entire field of DevOps will grow in importance as the differences between the roles of programming and administration continue to blur. To take full advantage of cloud computing's flexibility, it will be necessary to include cloud management in the program and application design. Cloud computing lets us treat hardware as programmable objects, which necessitates a new way of thinking about solutions as we figure out how to "program" hardware into our solutions.
Campbell is senior director of technology and an instructor at Miami University's College of Engineering and Computing, about cloud-computing careers. Campbell was previously director of computing labs for the school's Computer Science and Software Engineering Department. He authored the article "Teaching Cloud Computing."
You never know what opportunities await. Upload your resume to our Jobs Board.
Christian Esposito: One of the most important areas is security and privacy. Last year, according to research and advisory firm Gartner Inc., the need to prevent data breaches from public clouds would drive 20 percent of organizations to develop data security governance programs. In fact, information privacy and security is one of the most critical issues for the cloud due to its open environment and the very limited control that users have over it. The possibility of using cloud computing to store and manage personal data, such as personal health records, exacerbates these concerns. Therefore, I see a growth in jobs for people who can design and implement cloud-security governance programs.
Esposito is associate researcher at the University of Naples Federico II. His research interests include cloud computing, distributed systems, middleware, dependability, ubiquitous computing, and artificial intelligence. He also co-authored the article "Encryption-Based Solution for Data Sovereignty in Federated Clouds."
---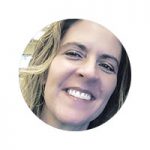 About Lori Cameron
Lori Cameron is Senior Writer for IEEE Computer Society publications and digital media platforms with over 20 years extensive technical writing experience. She is a part-time English professor and winner of two 2018 LA Press Club Awards. Contact her at l.cameron@computer.org. Follow her on LinkedIn.