Michael Tsikerdekis is an assistant professor in information and communications technology at the University of Kentucky, Lexington. His research interests lie in social engineering, data mining, collaboration technologies, and social media design and development. He co-authored the article "Detecting and Preventing Online Identity Deception in Social Networking Services" in the May/June 2015 issue of IEEE Internet Computing. For this issue of ComputingEdge, we asked Tsikerdekis about career opportunities in the field of social networking.
ComputingEdge: What careers related to social networking will see the most growth in the next several years?
Tsikerdekis: We believe that social networking as a field and market will grow in two ways over the next several years. The first is that there is still a need for products revolving around social media—desktop, mobile, and everything in between. All of them involve social networking features to a degree, which include the need for algorithms to accommodate large datasets and operations on them. Software engineers, database administrators and designers and even online community organizers are members of dynamic teams that need to support dynamic environments. The second expansion of the market will be in the analytics domain of socially networked data. There are companies today with analytics departments that collect and analyze data for various purposes. Nonetheless, while a company like Facebook is expected to have its own social networking analytics department, we still see companies established solely to collect and analyze the data of other companies. Graduates interested in a variety of analytics techniques are likely to see their skills needed everywhere.
ComputingEdge: What advice would you give college students to give them an advantage over the competition?
Tsikerdekis: The short answer—attempt to gain knowledge outside their main core specialization. The most important characteristic in candidates as it is seen in the industry appears to be a variety of skills rather than explicit specialization. Successful social media platforms employ a holistic approach to designing social networks. That means that there is a need for good programmers out there who are also diverse in their set of skills. With the explosion of startup companies, many coders are also going to find themselves pushing their companies forward. Their ideas are more likely to become part of a company's identity and, as such, a clear vision and a broader understanding of the field are needed. Current computer science curriculums are restricted for the digital social environments of the future. We need for our coders to be communicators, leaders, designers, and analysts as well. Of course, a person is not likely to master all of these areas nor should they. Instead, they should focus on one area and get a general knowledge of the other areas. As such, when they become team members, they will be able to appreciate another person's point of view. Good communication skills will help potential hires integrate well into a company.
ComputingEdge: What advice would you give people changing careers midstream?
Tsikerdekis: If they are entering the field of social networks, they are likely to encounter a diverse and ever-changing competitive environment. They will have to compete with fresh graduates that may appear (at least to employers) more creative. However, companies value experience, and they will pursue a seasoned candidate who can demonstrate a forward-thinking mentality. Companies in the field do not take extreme risks but they also want to avoid stagnation in a globally competitive market. A candidate who has the experience, skills, and creative potential for new ideas is a desirable candidate.
ComputingEdge: What do you consider to be the best strategies for professional networking?
Tsikerdekis: Find what professionals in the field are reading, find out what groups they belong to, and use social media to put yourself out there for everyone to see. For example, maintaining a current LinkedIn profile speaks volumes about your ethos as a person. Beyond that, maintaining the existing channels of communications is important. This does not mean bombarding people with emails but rather keeping the lines of communication open. If the six degrees of separation theory is true, you are only four or five people away from virtually any place you could imagine working for.
ComputingEdge: What should applicants keep in mind when applying for social networking jobs?
Tsikerdekis: Social networking jobs are not just jobs but rather careers. Not every company will give you space to grow and climb up the ladder in the traditional sense. Many social networking companies are small, yet sustainable and successful in what they do. They offer their employees the potential for growth or perhaps a stepping stone to something else. I would suggest doing your due diligence when looking for jobs, but don't dismiss jobs that seem small and insignificant. Social networking is a fast, dynamic, and innovative industry willing to explore and grow. Potential hires should do the same.
---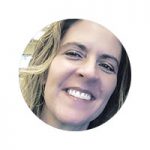 About Lori Cameron
ComputingEdge's Lori Cameron interviewed Tsikerdekis for this article. Contact her at l.cameron@computer.org if you would like to contribute to a future ComputingEdge article on computing careers. Contact Tsikerdekis at tsikerdekis@uky.edu.