Careers in Virtual/Augmented Reality: Advice from an Expert
By Lori Cameron
For this month's career feature, we interviewed Laura Trutoiu, a Senior Computer Scientist in Magic Leap's Advanced Technology office in Seattle and a domain expert in virtual and mixed reality. Her research spans computer graphics, human perception, and sensing/interaction for virtual and mixed reality systems. Her prior work has focused on enabling face-to-face communication in head-mounted displays and realistic facial animations for avatars. Laura holds a PhD from the Robotics Institute at Carnegie Mellon University where she worked on perceptually valid facial animation. She has conducted research in several research labs including the Max Planck Institute for Biological Cybernetics, Disney Research, Industrial Light and Magic, Oculus Research, and currently Magic Leap. We asked Trutoiu about careers in the field of virtual and augmented reality.
Computing Now: What types of tech advances in the field of virtual/augmented reality will see the most growth in the next several years?
Trutoiu: I predict that, as more mixed and augmented reality consumer products appear on the market, at the compute level you'll need to find a lot more spatial context understanding. In August 2018, at Magic Leap we launched the Magic Leap One Creator Edition, a spatial computing system that allows you to seamlessly blend the real and digital worlds. With Magic Leap One, the computer becomes something that understands the space around you and can provide you with tailored information based on what you are doing and where you are located. Imagine having your whole room as a desktop with your wearable understanding that you are placing digital objects on the table and finding them there again when you return. My hope is that in the near future computers will be making full use of our environment. The term we use for this kind of technology at Magic Leap is spatial computing.
Computing Now: What advice would you give college students to give them an advantage over the competition?
Trutoiu: Mixed reality is a systems-thinking problem where it is helpful to have a deep understanding of several areas, including computer science, optics, electrical engineering, and human perception in order to make a difference. If you are passionate about working in mixed reality, I'd suggest specializing in one area but working to understand the others at a college class level. If you're a software person, make sure you understand enough about how cameras or tracking systems work. If you're an electrical engineer, make sure you know a bit about human factors or human perception. The list keeps going.
Like what you're reading? Stay ahead of your field and sign up here for our Build Your Career or Computing Edge newsletters to get content like this delivered right to your inbox weekly.
Computing Now: If a graduate must begin work as an intern, freelancer, or independent contractor in the field of virtual/augmented reality what are some tips for building a strong portfolio for presentation in possible future interviews?
Trutoiu: As with many fields, what you have done matters. Fun projects, sometimes called pet projects, are always a good area to hone your skills and build your portfolio. When I applied to grad school in 2007, I had an old portfolio on my website that showcased digitally manipulated pictures that integrated digital objects including matching shadows and lighting and occlusion. My chosen area in grad school ended up being computer graphics and, little did I know, one of the little things that got the graphics folks interested in my application was what I thought of it as just a pet project. There's no better teacher and no better showcase of your work than a "passion" project.
Computing Now: Name one critical mistake for young graduates to avoid when starting their careers?
Trutoiu: One of the mistakes one can make is to become hyper-focused on current technology and not understanding the landscape of previous research efforts. As fields mature, there are many gems in the historical context that are useful to integrate with current technology. Read old papers—they're often the best.
Computing Now: Do you have any learning experiences you could share that could benefit those just starting out in their careers?
Trutoiu: One of my wise mentors taught me early on to throw myself into a problem deeply and to try to ask the questions—yes, even what may seem like simple questions—until you understand a problem to its core. I believe a way to do that is to try to explain a topic to others, especially to fellow junior students. That exercise not only probes your understanding but it also helps provide you with new questions to deepen your thinking. Plus, I think it's always good to pay it forward and help others learn.
---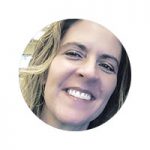 About Lori Cameron
Computing Now's Lori Cameron interviewed Trutoiu for this article. Contact her at l.cameron@computer.org if you would like to contribute to a future computing careers article. Contact Trutoiu at auract@gmail.com.