Careers in Information Technology: Advice from an Expert
By Lori Cameron
For this month's career feature, we interviewed Knut Haufe who co-authored "Improving Transparency and Efficiency in IT Security Management Resourcing," which appears in the Jan/Feb 2018 issue of IT Pro. Haufe is managing director and lead expert for information security management systems at PwC Cybersecurity Services. His research interests include process reference models, integrated management systems, and maturity levels. We asked Haufe about careers in information technology.
Computing Now: What types of tech advances in the field of information technology will see the most growth in the next several years?
Haufe: Surely, there will be significant tech advances in the future, but from my point of view it will be most challenging to manage them properly from different points of view. Management systems like information security management, business continuity management, data protection management, service management and so on will be loosening their borders. In the future, they will not be understood as silos any more. Instead they will be understood as one integrated management system in which information technology is managed from different viewpoints. Therefore there will be significant growth in integrating management systems. Also, we will have a change the focus of management systems from planning and building a management system towards the process-oriented operation of management systems.
Computing Now: What advice would you give college students to give them an advantage over the competition?
Haufe: Be a specialist and a generalist at the same time. While specializing, don't be blinkered [narrow-minded], always broaden your focus, and think beyond the borders you might think exist. This will always give you an advantage over specialists.
Computing Now: If a graduate must begin work as an intern, freelancer, or independent contractor in the field of information technology what are some tips for building a strong portfolio for presentation in possible future interviews?
Haufe: Just be yourself, know your strengths and recognize your weaknesses. Also, know what you want and how the next step you want to do will help you reach your goal.
Computing Now: Name one critical mistake for young graduates to avoid when starting their careers?
Haufe: Don't be blinkered.
Computing Now: Do you have any learning experiences you could share that could benefit those just starting out in their careers?
Haufe: Yes, always learn—never stop active learning. Learning will be easy if you understand learning as a privilege and a hobby that will give you great opportunities in life instead of a necessary evil.
---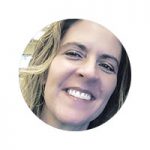 About Lori Cameron
Computing Now's Lori Cameron interviewed Haufe for this article. Contact her at l.cameron@computer.org if you would like to contribute to a future computing careers article. Contact Haufe at khaufe@pwc-cybersecurity.com.