Careers in Artificial Intelligence: Advice from an Expert
By Lori Cameron
For this career blog, we interviewed Joanna J Bryson, a transdisciplinary researcher on the structure and dynamics of human- and animal-like intelligence. She is an associate professor in the Department of Computer Science at the University of Bath and an affiliate of the Princeton Center of Technology Policy. Her research covers topics ranging from artificial intelligence to human cooperation. She holds an MSc in Artificial Intelligence and an MPhil in Psychology from Edinburgh and a PhD in Artificial Intelligence from MIT. She founded and for several years lead Bath's Intelligent Systems research group, and is affiliated with their Institutes for Policy Research and Mathematical Innovation, as well as their Centres for Networks and Collective Behaviour and for (External) Digital Entertainment.  She co-authored "Standardizing Ethical Design for Artificial Intelligence and Autonomous Systems," which appears in the May 2017 issue of Computer magazine. We asked Bryson about careers in artificial intelligence.
ComputingEdge: What types of tech advances in the field of artificial intelligence will see the most growth in the next several years?
Bryson: Clearly learning will continue to see growth but is also already swamped with talent.  But if you look at the details (rather than the hype) in a recent AlphaGo paper or indeed our article you'll see what really needs to be done, which is careful engineering. There's a lot of work already happening in industries that require transparency (like medicine and finance) in making machine learning auditable. I think there's going to be a lot of work coming up in building safe and assured systems, that require understanding systems engineering, concurrency, and security as well as AI and ML. Also, I think there will be a lot of work at the interface of regulation, on corporate boards, etc., so people skills and understanding of governance and law can all be useful. But the basics of probability that underlie machine learning and data science will probably be marketable for quite some time, especially if you couple them with the skills and patience to extract data from websites etc. and with developing visualizations.
ComputingEdge: What advice would you give college students to give them an advantage over the competition?
Bryson: Figure out your strengths and focus on them.  Don't slack off on a class that you find easy if others find it hard—focus on that class and find out if you can do work on that area with your professor.  Look for things that make you unique, and dedicate time to chasing your other interests. Art, governance, business, psychology, rhetoric—all kinds of things can make you the only person both qualified for the job but also uniquely capable.  It also gives you a good chance to meet a life partner, which can really make life a lot more enjoyable as well as giving you another kind of competitive advantage. Collaboration is a wonderful and productive thing.
ComputingEdge: If a graduate must begin work as an intern, freelancer, or independent contractor in the field of artificial intelligence, what are some tips for building a strong portfolio for presentation in possible future interviews?
Bryson: This is totally outside my area of experience. When I was a kid, you just took crap jobs and worked your way up.   I think you learn more from other people than by yourself.
ComputingEdge: Name one critical mistake for young graduates to avoid when starting their careers?
Bryson: At university, trying to be "good enough" at everything rather than trying to really shine on a few things.   It's easier to write letters for people who shine at something or another. Though of course the British are discouraging letters of reference right now. That's bizarre and I doubt it will travel to other countries.  Letters and informal communication about reputation really matter.  Also, it's a mistake to think you can make a critical mistake. You're going to live for a long time. You can easily reboot by doing things like moving to another country or taking a master's degree if you don't like the way your life is going.
ComputingEdge: Do you have any learning experiences you could share that could benefit those just starting out in their careers?
Bryson: I have many experiences to share. Visit my blog at https://joanna-bryson.blogspot.com/ and read my articles "Many paths to academic success" from February 2016 and "AIG & Bonuses" from March 19, 2009.
---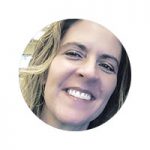 About Lori Cameron
ComputingEdge's Lori Cameron interviewed Bryson for this article. Contact her at l.cameron@computer.org if you would like to contribute to a future blog on computing careers. Contact Bryson at jjb@alum.mit.edu.