Dr. Ron Vetter Named Recipient of the IEEE Computer Society Merwin Award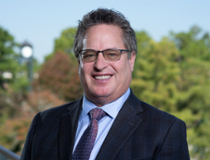 LOS ALAMITOS, Calif., 13 February 2023 – Dr. Ron Vetter, a professor in the University of North Carolina Wilmington (UNCW) Department of Computer Science, is a recipient of the prestigious 2023 Richard E. Merwin Award for Distinguished Service from the IEEE Computer Society (IEEE CS).  
The Richard E. Merwin Award is one of society's highest volunteer service awards honoring individuals worldwide "for exceptional contributions to the computing profession and sustained impactful service to the IEEE CS." The award's namesake was a pioneer in digital computer engineering known for his generosity of spirit and genuine helpfulness to advance the progress of the computer profession.  
"I am honored to be the recipient of the IEEE CS Richard E. Merwin Award," Dr. Vetter said. "This recognition is especially meaningful as my service involved working with leading computer engineers, scientists, academia, and industry professionals from across the globe to advance technology innovations and to have a positive impact on society. The knowledge and lessons I learned from these interactions, I brought into the classroom and shared with UNCW students, hopefully benefiting them in a positive way." 
Dr. Vetter has a long history of remarkable service to both UNCW and the computing profession at large, spanning nearly three decades. He has served on numerous national and international computer science conference program committees and editorial boards. Dr. Vetter has also held many leadership and academic positions at UNCW, including department chair, chief research officer, and dean of the graduate school. 
"Dr. Vetter is a respected scholar and educator at UNCW, in the community, and in the profession," said College of Arts and Sciences Dean Michelle Scatton-Tessier. "He is most deserving of this award that recognizes his contributions to the computing profession and his commitment to our programs and students." 
Dr. Vetter's contributions to the IEEE CS include serving on the editorial board for Computer, the international flagship publication of the IEEE CS since 1995. During that time, he served in a variety of capacities, including reviewer, department editor, advisory panel member and editor-in-chief from 2011-14.  Dr. Vetter has also served on numerous IEEE CS committees, including the eLearning committee, digital library committee, the conference and tutorials board and the electronic products and services board. 
Dr. Vetter will be presented with a bronze medal and a $5,000 honorarium at an upcoming IEEE CS awards dinner and presentation. A list of 2023 award recipients and further information can be found at IEEE CS Merwin Award. 
About the IEEE Computer Society
Through conferences, publications, and programs, the IEEE Computer Society (IEEE CS) sets the standard for the education and engagement that fuels global technological advancement. By bringing together engineers, scientists, researchers, and practitioners from all areas of computing and at every career phase, the IEEE CS enables new opportunities and empowers not only its members but also the greater industry. Visit computer.org for more information.
Recommended by IEEE Computer Society