Paul Curzon to Receive IEEE Computer Society 2020 Taylor L. Booth Education Award
LOS ALAMITOS, Calif., 20 January 2020 – Paul Curzon, professor of computer science in the School of Electronic Engineering and Computer Science at Queen Mary University of London, has been named the 2020 recipient of the IEEE Computer Society Taylor L. Booth Education Award "for outstanding contributions to the rebirth of computer science as a school subject."
Curzon leads the "Computer Science for Fun" project, inspiring students about interdisciplinary computer science by presenting research in fun, accessible ways through free high-quality magazines, web site, workshops and shows, promoting computer science for all. The linked "Teaching London Computing" project provides workshops and resources for teachers. They were named in the Edtech 50 as an exceptional and far-sighted coding-related project. Curzon has worked tirelessly to support computer science in schools personally developing many unplugged activities used in schools worldwide, writing for students and giving talks.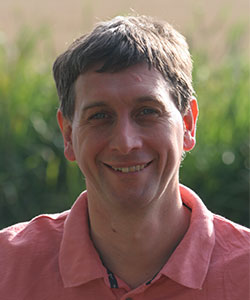 He was a founder member of Computing at School and is currently a member of its Board, as well as of the Academic Advisory Board of the UK National Centre of Computing Education. He was a member of the Royal Society's Computing Education Working group, "After the Reboot" and is co-author of the book The Power of Computational Thinking.
Curzon was made a UK National Teaching Fellow, recognizing his outstanding impact on student outcomes and the teaching profession; was a finalist for the Times Higher Education Innovative Teacher of the Year and has won multiple QMUL awards and nominations from students for teaching excellence, as well as the Richard Garriott Award for Leadership in Public Engagement. His work contributed to QMUL becoming the first university awarded a Gold Watermark for public engagement.
He teaches over 350 undergraduate students to program each year as well as teaching MSc students interactive systems design. He has published over 200 research papers in areas including education, public engagement, human-computer interaction, healthcare technology and formal methods.
Curzon joined Queen Mary in 2004 having previously been Reader at Middlesex University and a Senior Research Associate at Cambridge University. He received his Post Graduate Certificate in Higher Education from Middlesex University, and PhD, MA and BA in Computer Science from Cambridge University, as a member of Christ's College, Cambridge.
The Taylor L. Booth Education Award commemorates individuals who have an outstanding record in computer science and engineering education, as established by some of the following criteria: achievement as a teacher of renown in a relevant and applicable course; writing an influential text; leading, inspiring, or providing significant educational content during the creation of a curriculum in the field; and inspiring others to a career in computer science and engineering education.
The award consists of a bronze medal and $5,000 honorarium. Although Curzon will be unable to attend, his award will be announced at the Computer Society's annual awards dinner and presentation to be held on Wednesday evening, 27 May 2020 at the Hilton McLean Tysons Corner during the IEEE Computer Society Board of Governors meeting.
The award is named after Taylor L. Booth, a professor of computer science and engineering at the University of Connecticut who was instrumental in defining computer science and engineering curricula for program accreditation. His name was on the ballot as a candidate for president-elect of the Computer Society when he died of a heart attack in 1986.
Learn more about the Taylor L. Booth Education Award, including a list of past recipients.
About IEEE Computer Society
The IEEE Computer Society is the world's home for computer science, engineering, and technology. A global leader in providing access to computer science research, analysis, and information, the IEEE Computer Society offers a comprehensive array of unmatched products, services, and opportunities for individuals at all stages of their professional career. Known as the premier organization that empowers the people who drive technology, its unparalleled resources include international conferences, peer-reviewed publications, a unique digital library, standards, and training programs. Visit www.computer.org for more information.